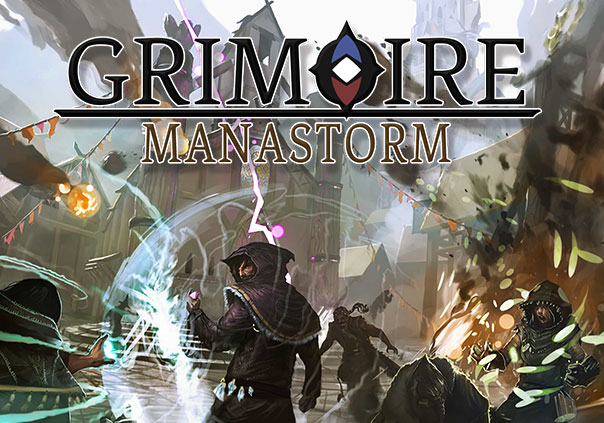 Grimoire: Manastorm is a free-to-play fantasy MOBA developed by Omniconnection for PC and is available for download on Steam. In Grimoire two great houses of magic are locked in a battle for the Grimoire; one of the most powerful artifacts in the world that ushered in the Dawn of Magic.
You can become one of the powerful wizards involved in this struggle, battling for territory and prestige. There are six different classes to choose from that will determine the spells available to you: Nether, Earth, Lightning, Nature, Ice, and Fire. The Fire class uses combinations of fire and rock to blast down foes, the Nether class bends reality and space to their advantage, the Earth class is a close range damage dealer and disruptor, the Lightning class strikes enemies with electricity from afar, the Nature class is a supporting healer, and the Ice class gets up-close and personal with high-damage, frigid spells. Thousands of possible loadouts exist with your customizable spell-book, meaning the most powerful wizards will be those not only with great skills, but great knowledge of the strengths and weaknesses of all spells.
Do battle across 12 different medieval-inspired settings, each with their own strategic positions for you to make use of. There are three game modes available for play: Conquest, Free-For-All, and Survival. In Conquest you can fight for control of territories with your team. In Free-for-All you fight by yourself in an all-out brawl to the death with other players. In Survival you play by yourself, holding off waves of enemies that increase in strength the further you make it.
Prove yourself worthy of the Grimoire's power in battles where your skills will be put to the test. Become a true mage, master every element, and dominate the competition in Grimoire: Manastorm!
Status: Released
Release Date: Oct 26, 2017
Business Model: Free to Play
Developer: Omniconnection
Publisher: Omniconnection
Category: Stand-alone
Genre(s): 3D, MOBA, Fantasy
Platforms: PC, Steam

Pros:

+Fun, skill-oriented combat
+Deep playstyles.
+Active developers.

Cons:

-Sound and graphics feel dated.
-Needs optimization.



Recommended System Requirements:

OS: Windows 7
CPU: 2.0+ GHz processor
RAM: 2 GB
GPU: SM3-compatible video card
HDD: 2 GB