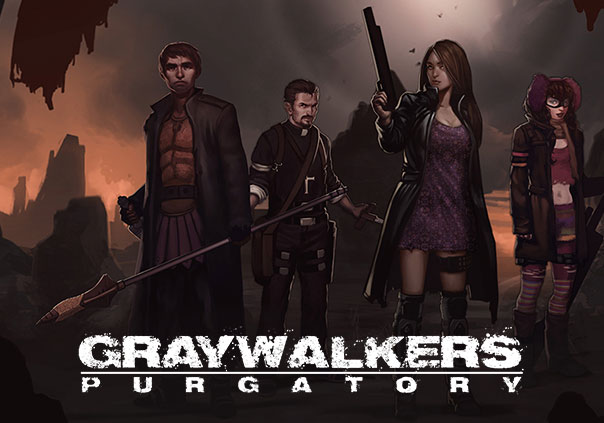 Graywalkers is a 3D strategic roleplaying game developed by Dreamlords Digital for PC, Mac, and Linux. In Graywalkers there are three different game modes to play: Campaign, Freeform, and Multiplayer. The game's Campaign mode puts players in an epic singleplayer storyline, Freeform Mode procedurally generates an entire experience for the player, and Multiplayer mode is planned to include team-based PvP.
Gameplay takes place by means of different maps. Using the Regionscape map gives players an overhead view to make strategic decisions from. Using the Areascape map brings players closer in 3D where they can move their characters individually or in a group. The Combatscape is another 3D map based on a square grid where players are brought right into the action and their movements are limited by turns. Switching back and forth between these maps will help you keep track of enemy movements during engagements.
Heavy emphasis is placed on your character and their progression as you play. Your character can be completely customize by race, gender, appearance, path, skills, and special abilities. Throughout the game your character will have to make different choices, leaving players to deal with the consequences of them no matter if they're good or bad. Your journey will truly become what you make of it. Character personalities will even play a pivotal role in combat, determining how they interpret each other's commands. Not everyone likes each other or spends time to get to know one another, leading them to make assumptions about what they might want or resulting in complete deviation from the intent, even if it was known.
Inspired by games like the original Fallout and XCOM, Graywalkers intends to deliver a unique roleplaying experience. See what kind of character you can create and what sorts of twists and turns their journey might take!
Status: Pre-Release
Business Model: Retail
Developer: Dreamlords Digital
Publisher: Dreamlords Digital
Category:

Stand-alone

Genre(s):

3D, RPG, Fantasy, Strategy

Platforms:

PC, Mac, Linux



System Requirements not yet known.


Description: Graywalkers is a 3D strategic roleplaying game where all the decisions you make are pivotal in determining the kind of journey you go on. Character personalities even play a role in combat, so be ready to deal with the Graywalkers that don't necessarily like one another!
Zoe is a duty-skirting cosmic messenger skipping across Summoner's Rift with cute poise and deadly long range attacks.
by Kings Decree
League of Angels has announced its recent release of a new Totem system feature and Element Zone in a recent update.
by MissyS
Your first slice of the nostalgia-pie is character creation.
by ApocaRUFF