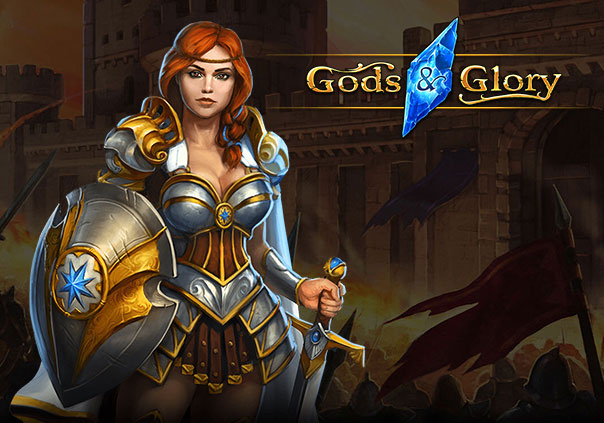 Gods & Glory is a free-to-play fantasy strategy game developed by Friday's Games for iOS and Android where players can clash with warriors across the world and build their very own empire.
In the game you can call upon the powers of six different powerful gods, taking advantage of their special abilities to help you on your campaign, but the main source of your power will come from the units you raise. Units can be recruited from your barracks that are either basic in nature or have an affinity with a particular god, but to summon those kinds of units you will need to have their god present at your Altar of Summoning. Whether you're looking for a Fighter, Sorcerer, Battle Mage, Protector, or something entirely different Gods & Glory has a unit for every situation. Some of your units can even have special abilities that can be used actively or will give passive bonuses in combat. Your units can also be upgraded which will increase their core attributes and their overall strength.
You will be hard pressed for success if you don't find an alliance to work with. Alliances are a core part of the gameplay in Gods and Glory, making it much easier and quicker for you to expand your grip on the world. The more allies that you have means the more people that can look out for each other, and the more massive the invasions can be that you'll launch on your enemies before they get the chance to attack you. You can even launch full on wars with other alliances!
Choose a hero to develop, strengthen your army, call upon the powers of the gods, and help your alliance conquer all who oppose you. There is an entire world out there ripe for the taking in Gods & Glory!
Status: Released
Release Date: Nov 15, 2016
Business Model: Free to Play
Developer: Friday's Games
Publisher: WG Labs
Category:

Browser

Genre(s):

2D, MMO, Fantasy, Strategy

Platforms:

iOS, Android


Pros:

+Fun to play in an alliance.
+Lots to do early on.
+Engaging gameplay.

Cons:

-Heavy pay-to-win aspect.
-Long wait times.
-Events usually require payment.



Recommended System Requirements:

OS: iOS 8.0 / Android 4.0.3
HDD: 139 MB



Description: Gods & Glory is a free-to-play fantasy strategy game where players can call upon the powers of the gods and expand the influence of their empire. There is an entire world out there ripe for the taking by you and your allies!
Epic 9.4 will provide players with plenty of new challenges to test their power and speed.
by MissyS
I have already had an opportunity to play Echo of Soul, and even had a shot at doing a higher-level dungeon with a couple of other press
by Ragachak