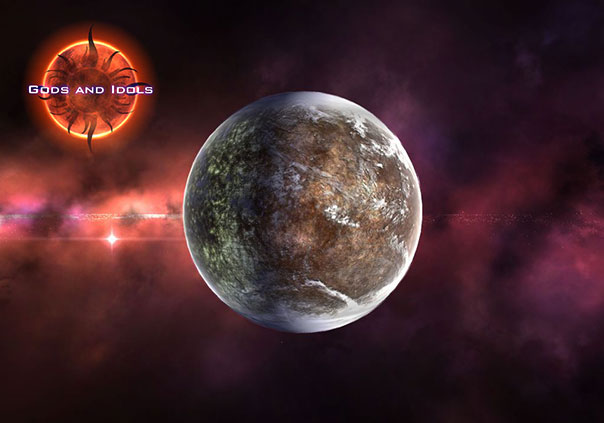 Gods and Idols is a free-to-play sci-fi MMORTS developed by Viking Tao for PC and is available for download on Steam Early Access. In Gods and Idols players can take on the role of a newly ascended deity by commanding cosmic powers, forging alliances with other players, and using their worshipers to further their influence.
Once a human, you have now become an immortal being. As a divinity you must lead your people through a time of darkness and gain your power through their worship. With so much destruction around your followers will be sure to find your leadership a breath of fresh air as you sculpt planets to fit their needs, creating lush wonderlands for them to enjoy. If you protect them from stellar radiation and the other, much darker forces lurking in the universe they will erect monuments in your name and launch massive fleets to help expand your empire. Star systems will never have seemed so small in the grand scheme of your immense power.
Don't think your human followers are the only instruments for growth either. You're forgetting, you are a deity! The raw, primal forces of the universe are also at your disposal. Swing asteroid belts to rain destruction down upon your foes, kidnap their planets into your own holding universe, and cause their suns to go into a supernova state, leaving absolutely nothing in their aftermath. It sounds cruel, yes, but at times like these when the threat of the Black Sun is evident it might not be quite as horrific as it initially seems.
By collecting resources, creating planets, and expanding your interstellar empire you'll ensure you're as prepared as possible for the impending doom sweeping the universe, but will you succeed in keeping your followers safe?
Status: Pre-Release
Release Date: Dec 12, 2016
Business Model: Free to Play
Developer: Viking Tao
Publisher: Viking Tao
Category:

Stand-alone

Genre(s):

3D, MMO, Sci-Fi, Strategy

Platforms:

PC, Steam


Pros:

+Great soundtrack.
+Huge universe.
+Awesome graphics.

Cons:

-Limited gameplay.
-Tutorial lacks some core instructions.
-Existing gameplay needs more logic to progression.



Recommended System Requirements:

OS: Windows 7 or later
CPU: AMD FX or Intel Core i7
RAM: 2 GB
GPU: GeForce 700 series or later
HDD: 2 GB



Description: Gods and Idols is a free-to-play sci-fi MMORTS where players can take on the role of a newly ascended deity and command cosmic powers! Everything from asteroid belts to massive suns will bend to your will as you try to keep your followers safe and gain power from their worship.
Alganon drops subscription fee. Gamers still required to purchase game to play though, think Guild Wars.
by MissyS
A new free-to-play shooter with an edge comes via gogogogo.com!
by MissyS