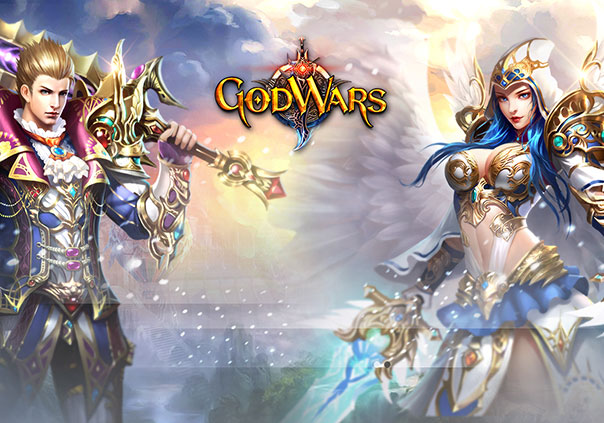 God Wars is a free-to-play 2D fantasy browser MMORPG developed by R2Games where players can recruit different kinds of heroes from different races to help them eliminate invading demonic forces. Resisting the demonic invasion is one thing, but players must also work to rebuild a true nation by starting to forge their own city.
Players can choose to be either a fearsome warrior or talented mage, fighting against any demons they come across in their adventures. New equipment and gear can be collected as you take down demons of all sizes. This gear can be further upgraded to give you even greater bonuses, making you so strong that no demon would dare stand in your way!
There are many different kinds of ways to play in God wars. Instances can be fought through, world bosses can be brought down, the Tower of Eternity can be conquered, and the ultimate test of the Trial Hall can be taken on. Those who seek an extra challenge can look to the leaderboards for their ranking and strive to improve it by whatever means necessary. As you play you'll also be able to upgrade and enhance your city for even greater bonuses that will help you become the strongest hero in the land.
When entering combat you will fight against all kinds of creatures in turn-based engagements. Battles will take place in rounds where you and your enemies will switch back and forth taking actions, using attacks and skills to take each other out. Only the strongest will emerge victorious, so make sure to go into each battle with a strategy and predict what your foes will try to do.
God Wars puts you in control of the safety of the land. Recruit fellow heroes, fight demons, and build your city to restore what peace you possibly can to an already broken world.
Status: Released
Business Model: Free to Play
Developer: R2Games
Publisher: R2Games
Category:

Browser

Genre(s):

2D, MMO, RPG, Fantasy

Platforms:

PC, Mac, Linux


Pros:

+Many ways to play.
+Interesting heroes.
+Artistically impressive.

Cons:

-Gameplay lacks engagement.
-Little class choice.



Browser with Internet connection required.


Description: God Wars is a free-to-play 2D fantasy browser MMORPG where players can recruit other heroes and fight an impending demonic force. There are many different ways to play and you can even build up your own city to help restore peace to the land!
Allods Online officially launches into Open Beta. gPotatos critically acclaimed and highly anticipated free to play MMORPG is finally availabl...
by Guest
Gamania Digital Entertainment (publishers of Bright Shadow, Lucent Heart, and Divina) have revealed a new private event to showcase Core Blaz...
by MissyS
The Open Beta for Karos Online is here! Unfortunately though, the game launched with many bugs and glitches - the most annoying being the conn...
by Guest