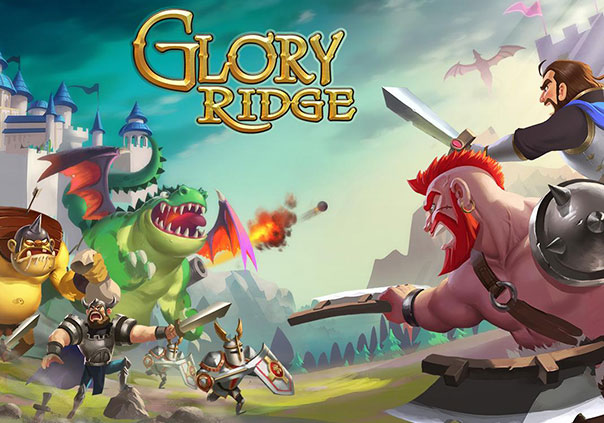 Glory Ridge is a free-to-play fantasy strategy game developed by Oasis Games for iOS and Android. In Glory Ridge players can enter a medieval fantasy world where they can choose from 10 different strong heroes and create their own city in an effort to build an entire empire.
The hero you choose to use will play an integral role in your battles. Each hero has unique skills that will help your troops in battle and give you other various bonuses that will help you conquer your foes. Heroes can be discovered as you play, but you'll need to persuade them to join your efforts. Tempt them with gifts and build a relationship with them to get them to put their life on the line on the battlefield for your cause.
Alliances are another important part of Glory Ridge, giving players the chance to band together with other like-minded leaders. They can even work together to defeat massive bosses for great rewards. Don't think all bosses will be able to be overcome by sheer numbers though. Some will take tact and skill to defeat while others will soon become your worst nightmare!
Fighting isn't the only thing you'll be doing either. During peaceful times you can hunt for treasure to increase your power. Not to mention you have an entire empire to manage. You'll certainly have your hands full improving all sorts of buildings that give you different kinds of upgrades for both offense and defense. Different kinds of units will even become available as you continue to expand and improve your city!
Players that are only satisfied with creating the grandest of cities will love the plethora of things that they can do to improve their empire. Attack other cities, defend your own, and set fire to the world. Nobody has dared to take over the entire world. Will you be the first to make it happen in Glory Ridge?
Status: Released
Release Date: May 15, 2017
Business Model: Free to Play
Developer: Oasis Games
Publisher: Oasis Games
Category: Mobile
Genre(s): 2D, Fantasy, Strategy
Platforms: iOS, Android

Pros:

+Great visuals.
+Colorful, interesting maps.
+Good for killing time.

Cons:

-Events lack variety.
-Filled with farmers.
-Timed building creation.



Recommended System Requirements:

OS: iOS 8.0 / Android 4.0.3 or later
HDD: 165 MB