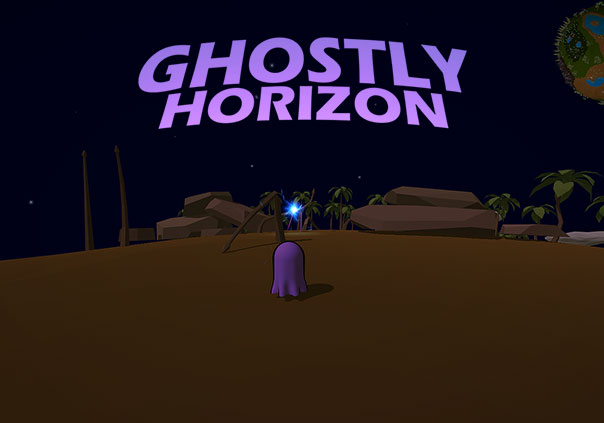 Ghostly Horizon is a fantasy RPG developed by Markus Boberg for PC and is expected to be available on Steam in Q1 2018. In Ghostly Horizon players can take part in competitive battles on a spherical world where casting spells is the name of the game! The planet you are placed on has completely open and free circumnavigation, taking all movement restrictions away from players. Each planet also has it's own day night cycle across various environments like deserts, woods, arctic lands, lakes and more.
Player skill is what matters in Ghostly Horizon. Every player begins with the same amount of stat points, but what matters is how you allocate them and use them to your advantage. Throttle your movement speed, jump height, cooldown time, status effect duration, and more to your preference and use them with your own spell element choice to dominate the competition. Whatever you can do to play to your own strengths, do it!
Cooperation is emphasized in team-oriented matches. Players can use healing spells to keep their allies alive to fight the good fight or use boosting spells to increase their allies' strength. You can even conjure up a teleport location with enough team mates working together, enabling you to launch unexpected assaults from different locations, but be careful that you don't accidentally teleport to your enemies' location and wind up dying in a split-second. Combat is dangerous, so make sure you don't just throw your winning streak down the toilet by getting too wreckless!
With a low-poly, yet attractive look and cute animations you won't be expecting the cutthroat battles that take place in this game! Experience an effortless flow between battles and fight to become one of the best spell-casters in the world in Ghostly Horizon.
Status: Pre-Release
Business Model: Retail
Developer: Markus Boberg
Publisher: Markus Boberg
Category:

Stand-alone

Genre(s):

3D, RPG, Fantasy

Platforms:

PC, Steam



Recommended System Requirements:

OS: Windows 7
CPU: Intel i5 1.8GHz
RAM: 2 GB
GPU: Intel HD 4000
HDD: 500 MB



Description: Ghostly Horizon is a fantasy RPG where players can battle in multiplayer matches where casting spells is the name of the game. Strategize with your team members and power each other up to take over the battlefield. Teamwork is key in Ghostly Horizon, but so is survival!
War has become more massive than ever with the upcoming release of Titan's Fury, the latest expansion for Perfect World Entertainment...
by JamesBl0nde
Neverwinter has come a long way since its release. Its ninth expansion, The Maze Engine, is due to release very soon.
by Outfoxed
This afternoon's Camelot Unchained stream had two special announcements for backers and fans.
by MissyS