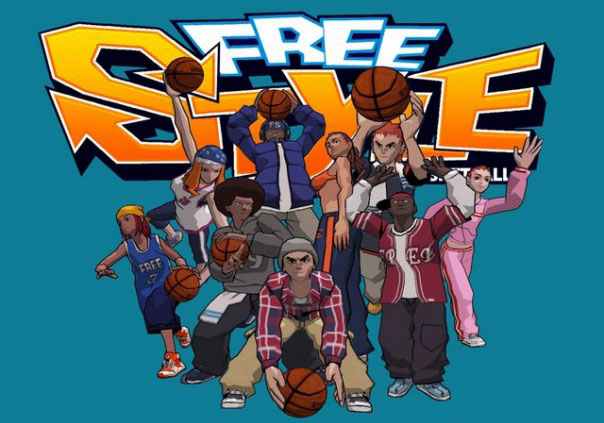 FreeStyle Street Basketball
FreeStyle is the first and (currently) only Basketball MMO out there. In the past, Sierra Online published it for North American users, but unfortunately they closed the game on September 25th, 2008. It took a year or so for the game to be re-opened to North American users through the new publisher Gamekiss. FreeStyle is a fast-paced and incredibly fun basketball MMO with three starting classes, or positions. They are:
Positions [Classes]:
Guard (G)– Point Guards are speedy characters that are most proficient at making 3-point shots. They have relatively weak 2pt shots and rebound capabilities. At level 15, Guards can chose to become either a Point Guard (PG) or a Shooting Guard (SG)
Forward (F)– Forwards are the 'jack of all trades' type class in FreeStyle. They have powerful mid-ranged capabilities and can score most of the time when making 2pt shots. They are also capable of making 3 point shots and getting rebounds. At level 15 Forwards can choose to become either a Power Forward (PF) or a Small Forward (SF)
Center (C)– The center in FreeStyle is the defensive position. They have the highest block capabilities in the game and are incredibly effective at scoring 2-point shots and catching rebounds. Their weakness is that they move incredibly slow. Centers tend to be difficult to play, so newbies should opt to play one of the other professions. Unlike the other two positions, centers do not get promoted at level 15.
Status: Pre-Release
Business Model: Free to Play
Developer: JC Entertaiment
Publisher: GamekissFreeStyle is the first and (currently) only Basketball MMO out there. In the past, Sierra Online published it for North American users, but unfortunately they closed the game on September 25th, 2008. It took a year or so for the game to be re-opened to North American users through the new publisher Gamekiss.
Category:

Stand-alone

Genre(s):

3D, Sports, Simulation

Platforms:

PC


Pros:

+Unique gameplay.
+Good tutorial.
+Plenty of customization options.

Cons:

-Only one game mode.
-Cash shop items can create imbalances.
-Many non-english speaking players.



Recommended System Requirements:

OS: Windows XP / Vista
CPU: Pentium 4 1.2 GHz processor or AMD Equivalent
RAM: 512 MB
GPU: 1.0 GB
HDD: GeForce3 Ti OverATI Radeon 7500 Over



Description: FreeStyle is the first and (currently) only Basketball MMO out there. In the past, Sierra Online published it for North American users, but unfortunately they closed the game on September 25th, 2008. It took a year or so for the game to be re-opened to North American users through the
As you can see, I was more than a little impressed with Divinity: Original Sin. It looked good on paper, and the real thing was fantastic.
by DizzyPW
3015. A thousand years from now, humanity thrives in the galaxy, expanding far beyond its home Earth.
by MissyS
Netmarble, the number one mobile games publisher in South Korea, announced today an investment of $130 million to SGN.
by MissyS