*Note: This game has been cancelled or shut down and isn't available for play.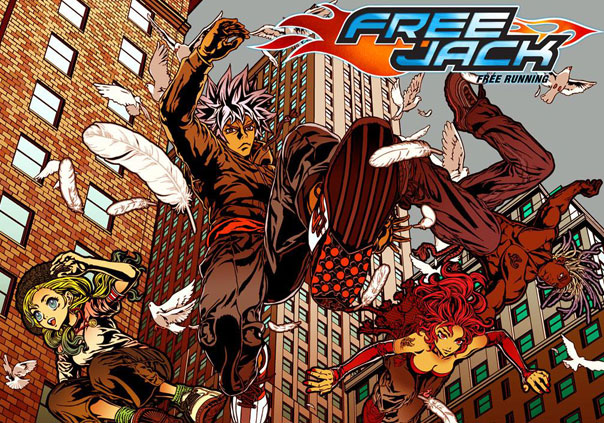 In FreeJack, players race on foot through the urban environments of New Jack City. Getting from point A to point B requires jumping from rooftops, over cars, walls, and overcoming other obstacles. FreeJack mixes the odd but interesting 'parkour' concept with the crazy and casual friendly gameplay found in kart racers. Players will be able to chose from many modes, use items on one another, and create clans to face off against each other. Single player missions and the ability to decorate an instanced home add variety to FreeJack.
Characters:
Jin (M) – The leader of the Andro Bob-omb, Jin turned to free racing to get back at the man who stole his lobster pie. Special: Agility
Nadia (F) – A former gold medal gymnast, Nadia is now a private detective who is undercover as a runner. Special: Technique
Goodspeed (M) – The most famous quarterback in New Jack City. Saul Goodspeed turned to running after a stint in dentistry. Special: Toughness.
Tina (F) – Despite her size, Tina is a master of Judo and physics. She turned to racing to help find her former sensei. Special: Speed

Status: Shut Down
Business Model: Free to Play
Developer: GamerKraft
Publisher: GamerKraft
Category:

Stand-alone

Genre(s):

3D, MMO

Platforms:

PC


Pros:

+Unique concept.
+Stylish visuals.
+Varied environments & game modes.
+Player housing.
+Customizable avatar.

Cons:

-Limited information available.
-Only four characters to chose from.
-Gameplay may get repetitive.



Recommended System Requirements:

OS: Windows Vista / 7
CPU: Intel Pentium Dual Core or better
RAM: 2 GB or more
GPU: Geforce 6600 GT or better
HDD: 2 GB



Description: FreeJack is a 3D parkour racing MMO where players race on foot. Overcome urban obstacles like walls and cars. The game includes a single player mission mode, player housing, and more. Leap from rooftop to rooftop in the exciting and original FreeJack!
Endless Legend Shifters is the latest expansion added to Amplitude Studio's acclaimed Endless Legend series.
by ApocaRUFF
ArenaNet, developer of the smash hit Guild Wars 2, commemorates a record-breaking first year with a free trial of its critically acclaimed gam...
by MissyS
Seasun Games, developers of Jian Wang 3 announced that their historical martial arts MMO will hit mobile as Eastward Legend: The Empyrean.
by Ragachak