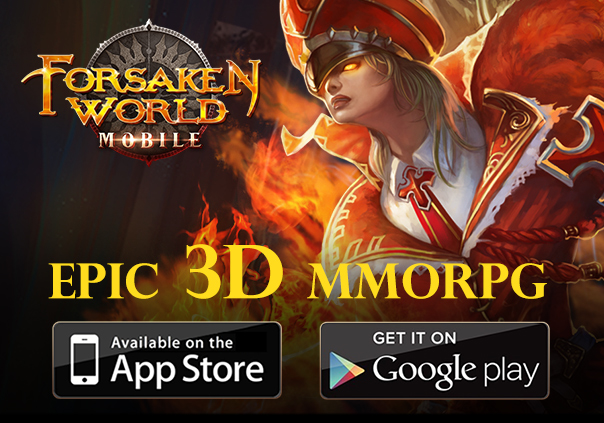 From Fedeen Games comes the mobile version of Forsaken World on both iOS and Android. This new adaptation of the popular PC MMORPG will include 3D graphics, exotic mounts to capture and train, PvP, and even raids all at the ease of your mobile device! Forsaken World Mobile even utilizes the same graphics engine as the PC version of the game! In Forsaken World Mobile players can choose from one of 5 classes to play as, all of which appear to pay homage to the classes and races of the PC game in one way or another.
Classes:
Assassin – The typical rogue type class of many RPGs with high damage, adequate defense, little magic skills, and utilizes small, quick weapons.
Cleric – The support class. Has many healing abilities to keep party members refreshed, but has comparatively low damage and defenses.
Kindred – A mix of many types of classes, the Kindred can fight at both a distance and within melee range, but also rather uniquely can use the blood of enemies to recover health.
Mage – The classes magic-wielding ranged combatant. The Mage excels at fending off groups of enemies and dealing high area damage, but has low defenses to compensate.
Warrior – The classic melee class with good damage, great defense that comes from wearing heavy armor, but little to no healing skills. The warrior can be both a great tank or a good damage dealer.

Status: Released
Business Model: Free to Play
Developer: Fedeen Games
Publisher: Fedeen Games
Category: Mobile
Genre(s): 3D, MMO, Adventure, RPG, Fantasy
Platforms: iOS, Android

Editor's Score: 2/5

Pros:

+Mobile MMORPG that is immersive.
+Gameplay design works well for mobile.
+Elements of a true MMORPG on a mobile device (ex. raids and PvP).

Cons:

-Not for gamers who don't like MMORPGs
-Not for the casual player.
-Very repetitive gameplay.