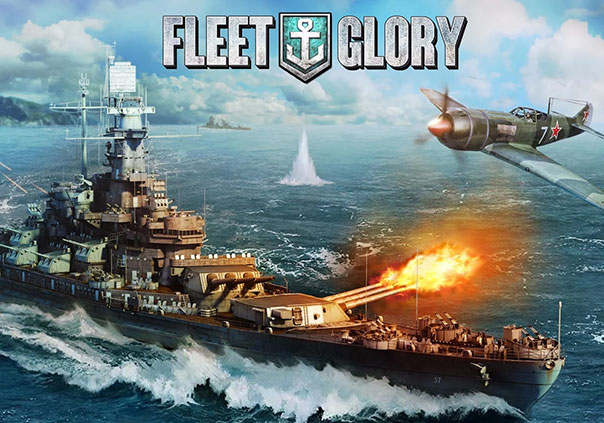 Fleet Glory is a free-to-play mobile third-person shooter developed by Oasis Games for iOS and Android. Set in WWII, Fleet Glory is a TPS gives players the chance to become a captain and choose their own warship to lead into naval battles. You won't be by yourself out at sea either! Team cooperation and strategy adjustment are both extremely important to achieve victory.
Many different kinds of warships will be at your beck and call in Fleet Glory. Whether you're looking for a Cruiser, Sea Sweeper, Destroyer, Submarine, Carrier, or something else entirely there is a ship that will suit your needs. Arrange your harbor and come up with battle strategies that you can implement when the time comes and destroy your enemies with. The weapons systems for your ships will help your warship vary its types of attacks while using a skill system enables your attacks to only be limited by your imagination. Customize your ships with different paint schemes and decals to give them some color and outfit your ships with different accessories to make them shine no matter how bleak or promising a battle becomes.
Whether you're looking to challenge other players or simply put your skills to the test Fleet Glory has a game mode for you. Fight in a highly collaborative Occupation Mode, kill-oriented Annihilation Mode, tracking-oriented Hunting Mode, and a Confrontation Mode. If you're feeling extra daring you can challenge bosses with your teammates and reap great rewards if you're successful.
Captains, gear up and come set up your own invincible fleet! Challenge other players and hardy bosses to strategic and skill-based naval combat where only the best captains will emerge victorious. Will you float your way to victory, or sink to the depths of the sea? You decide your fate!
Status: Released
Release Date: Jul 17, 2017
Business Model: Free to Play
Developer: Oasis Games
Publisher: Oasis Games
Category: Mobile
Genre(s): 3D, Shooter
Platforms: iOS, Android

Pros:

+Easy to play without payment options.
+Good graphics.
+Themed well.

Cons:

-Inverted map feels counter-intuitive.
-Needs more battle options.



Recommended System Requirements:

OS: iOS 8.0 / Android 4.0.3 or later
HDD: 846 MB