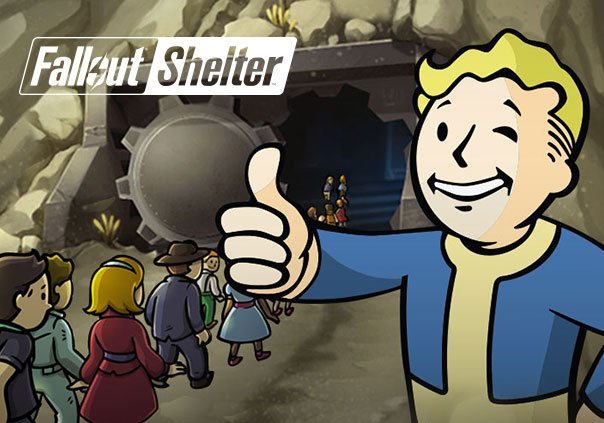 Start a wonderful new life underground in Fallout Shelter, a survival game created by Bethesda. Set in the Fallout universe, players are put in control of a state-of-the-art underground Vault from Vault-Tec. Players will be tasked with building the perfect Vault, keeping Dwellers happy, and protecting them from the dangers of the Wasteland. It is available on XBox 1, PS4, Nintendo Switch, PC, and mobile devices.
Features
►Players can select from a variety of modern-day rooms to turn an excavation beneath 2,000 feet of bedrock into the very picture of Vault Life. Occasionally, players can send Dwellers above ground to explore the blasted surface left behind and seek adventure, handy survival loot, or unspeakable death. It's dangerous out there, but well worth the rewards for successful expeditions.
►Getting to know your dwellers will be an important task. After all, you're going to be spending a lot of time together! Lead them to happiness by finding their ideal jobs and helping them flourish. Equip them with different weapons, gear them up with different outfits, and give them training to improve their abilities. Build a Radio Room so you can get into contact with other Dwellers from outside and bring them to your own shelter, or if you're feeling like a matchmaker see who you can pair up and let the sparks fly. The more the merrier when it comes to surviving the harsh world you've been left in.
►Whatever the dwellers bring back from their journey, things like worthless junk can be turned into useful items with crafting. Not only that, but players must prepare their Dwellers to protect themselves against threats from the outside and within the vault. Vault-Tec has provided the tools, but the rest is up to you. In the fallout shelter, anything can happen at anytime. Prepare for what you can and lead your Dwellers to a safer future.
Expansions
There have been no expansions as such, but Bethesda regularly toggles holiday events within the game.
Microtransactions
Players may purchase Nuka Cola to expedite travel in the wastelands, as well as lunchboxes containing resources and dwellers. Mr. Handy robots are also available for purchase, as are pet carriers. All of these things may also be found through gameplay and quests.
Status: Released
Release Date: Jun 15, 2016
Business Model: Free to Play
Developer: Bethesda
Publisher: Bethesda
Category:

Stand-alone, Mobile

Genre(s):

2D, Sci-Fi, Strategy

Platforms:

PC, Steam, Xbox One, PS4, Switch, iOS, Android


Pros:

+Tons of customization
+Unique survival mechanics

Cons:

-Low replay value (content can be completed fairly quickly)



Recommended System Requirements:

OS: Windows 7 (64-bit)
CPU: Intel Core 2 Quad CPU Q9550 @2.83GHZ
RAM: 2 GB
GPU: NVIDIA GeForce GTS 250 1Ghz, Radeon HD 6970 1GHz
HDD: 2 GB



Description: Set in the Fallout universe, players are put in control of a state-of-the-art underground Vault from Vault-Tec.
Joycity begins pre-registration for Elemental Wings, a game featuring a combination of vertically scrolling flying shooter, CCG & RPG.
by MissyS
Guild Wars 2: Access the Heart of Thorns Beta w/ New In-Game Event - Try out the new expansion early
by Mikedot
ArcheAge: Unchained is coming soon (September 30th, 2019), and in some recent livestreams, the developers have discussed it in greater detail.
by Ragachak