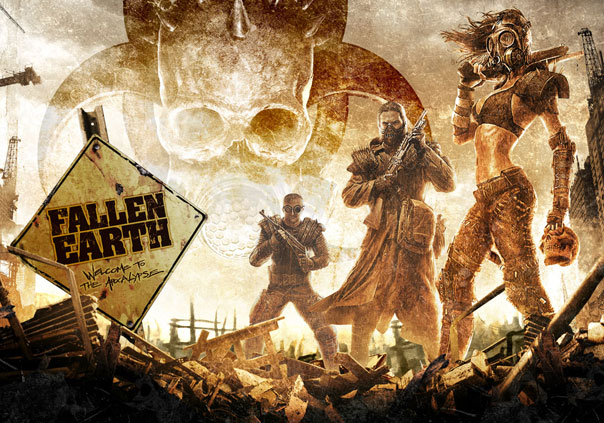 Fallen Earth places its players in a barren desert that once used to be the American Grand Canyon. This MMO is based on themes of survival and desperation. Fallen Earth is rich with quests, combat, enemies, and trading. Survival is a product of all aspects of the game, and players must be able to outfit themselves with the proper equipment, train themselves how to use that equipment, and meet the right people in order to succeed. Fallen Earth has different ways of handling each of these topics, and some of them are handled much more gracefully than others.
Crafting: Crafting plays an enormous role in Fallen Earth. Finding effective equipment on your own is quite rare, and purchasing it from others is expensive. This places an important emphasis on being able to be self sufficient and create the goods that you need. Not only does this give Fallen Earth its unique flavor, but it also bolsters the game's strong theme of surviving after the end of modern civilization.
Combat: Fallen Earth mixes together the crosshairs of an FPS with the attribute and skill system of an RPG. This makes it necessary for players to aim their attacks at enemies in addition to acquiring the proper skills and attributes to make them effective. Enemies are not 'targeted' in Fallen Earth; when fighting multiple enemies it is up to the player to aim at the target of their choice. While this system makes an attempt to keep things interesting, it also delivers a clunky and sometimes annoying feel to the action.
Factions: Starting out in Fallen Earth, characters are neutral with all the available factions. Players can choose to remain neutral, or they may join up with one of the games six factions. Factions provide benefits to skills, abilities, and equipment. While having allies is always a plus, every faction has an opposing group that they are unfriendly with. This means when new friends are acquired, so are new enemies. The available factions are: Children of the Apocalypse, Light Bearers, Tech, Traveler, Vista, and Enforcers.
Status: Released
Release Date: Sep 22, 2009
Business Model: Free to Play
Developer: Reloaded Productions
Publisher: K2 Network
Category:

Stand-alone

Genre(s):

3D, Sci-Fi, Shooter

Platforms:

PC, Mac


Pros:

+Huge, open-world environments to explore.
+Elaborate crafting mechanics.
+Open-ended character system.
+Enjoyable faction oriented PvP.

Cons:

-Complexity can be somewhat overwhelming at first & tutorial is lackluster.
-Clumsy interface.
-A LOT of bugs.



Recommended System Requirements:

OS: Windows XP, Windows Vista, Mac OSX
CPU: Core 2 Duo E4300 1.8GHz
RAM: 2 GB
GPU: Radeon X1300 w/ 256MB VRAM
HDD: 10 GB



Description: Fallen Earth is a post-apocalyptic MMORPG released by K2 Network
Chaos Interactive Ltd. today launched a 30-day Kickstarter campaign for the independent developer's recently announced open world sci-fi MMO...
by Mikedot
This week marks yet another stretch goal being surpassed for CityState Games' upcoming RvR MMORPG, Camelot Unchained!
by DizzyPW
Alaplaya has officially launched Skylancer, a free-to-play browser strategy game.
by MissyS