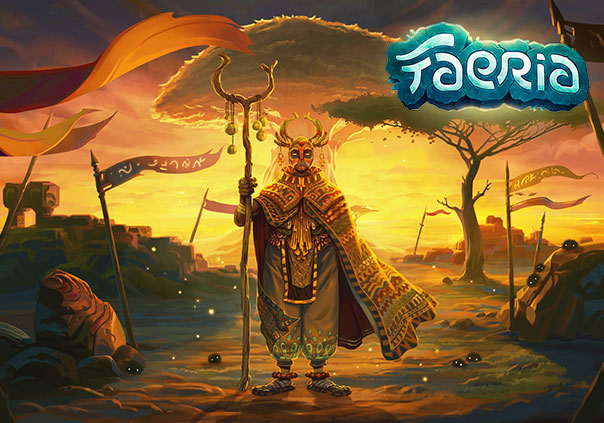 Faeria is a free-to-play fantasy card game developed by Abrakam SA for PC, Mac, Linux, iOS, is available for download on Steam, and is expecting an Android release as well. In Faeria players can experience a CCG with an innovative, dynamic board and highly tactical combat.
In battle players can place land tiles that serve both the purpose of becoming part of the playing field and a resource pool. Much thought will need to be put into how you want to place your tiles. Cards can be used in a variety of ways to compliment different kinds of strategies. Sometimes you might want to use rush cards to take down your opponents as quickly as possible, or maybe you think saving up your cards for huge multi-card combos that can wipe your opponent out in a single turn is the better choice. You'll have to decide for yourself!
Throughout your turn you can take a multitude of different actions like: moving, attacking, drawing cards, summoning creatures, and placing land. There are no phases in Faeria, so you are free to do as you like while it is still your turn and maximize the effect of your actions as much as possible. In addition, you are not limited to elemental types to add to your deck.
Card battles against computer opponents won't be the only thing for you to do in Faeria either! Take to Pandora and fight other players in the arena to prove who is the strongest, or try to complete entertaining puzzle quests that will have you scratching your head.
Faeria's unique dynamic board, innovative resource system, and multitude of types of gameplay are just a download away. Collect your cards, dominate your opponents, and show the world that you deserve the title of one of Faeria's strongest!
Status: Released
Release Date: Mar 08, 2017
Business Model: Free to Play
Developer: Abrakam SA
Publisher: Abrakam SA
Category: Stand-alone, Mobile
Genre(s): 2D, Fantasy, Strategy
Platforms: PC, Mac, Linux, Steam, iOS, Android

Pros:

+Dynamic boards.
+Easy to pick up.
+Fun puzzle quests.

Cons:

-Could use some more cards.
-Lacking in animations.



Recommended System Requirements:

OS: Windows 10 / OS X 10
CPU: 2.2GHz Dual Core
RAM: 4 GB
GPU: Card with 1GB VRAM
HDD: 3 GB