*Note: This game has been cancelled or shut down and isn't available for play.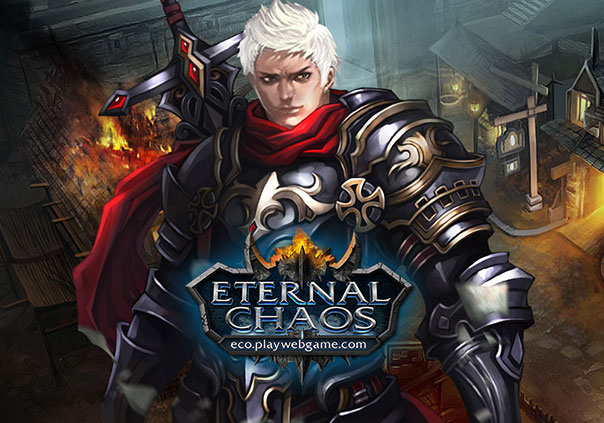 Eternal Chaos Online is a free to play fantasy MMORPG developed by Prodigy Infinitech for PC and it can be played in a browser or via a downloaded client. In Eternal Chaos players will find themselves becoming a Berserker, Assassin, or Mage, traveling through different time periods in order to stop the evil Demon Shadow that is causing rifts in the timeline. Don't think that is all though, you'll also need to make sure you're able to find your way back to your own time afterwards if you can even manage to put a stop to his malevolent plans.
Throughout your adventure you will cross through seven different time periods, each with their own backstory and situation surrounding the Demon Shadow. Do you have the strength, and most importantly the sanity, to travel through such vastly different time periods, stay collected, and foil the Demon Shadow's plots?
The seven time periods are:
The Robinhood Era – Where you will overthrow evil and fight for justice alongside Robin Hood himself.
 Age of Emperor Li – Where you will act as the right-hand man to Emporer Li himself and help him take back the Imperial Jade Seal.
Age of Arthur – Where you will need to find Excalibur and unify the Great Britain Islands.
Age of Caesar – Where you will have to act as Caesar's guardian and savior, protecting him from the Phantom.
Age of Saladin – Where you will have to vanquish the Muli army while managing to keep your own troops alive and well.
Age of Joan – Where Joan will tell you of the secret hidden in her vineyard and you will need to defeat the Phantom for her.
Age of War God – Where you will help Kratos, now a War God, who has escaped to Chrono City to seek refuge.
Status: Shut Down
Release Date: May 25, 2016
Business Model: Free to Play
Developer: Prodigy Infinitech
Publisher: Playwebgame
Category: Stand-alone, Browser
Genre(s): 3D, MMO, RPG, Fantasy
Platforms: PC

Pros:

+Interesting background story.
+World bosses to fight against.
+Numerous in-game activities to take part in.

Cons:

-Recharge system.
-English not always correct.
-Small playerbase.



Recommended System Requirements:

OS: Windows Vista / 7 / 8
CPU: Intel Core i3 3.6 GHz
RAM: 4 GB
GPU: GeForce GT 730 or equivalent
HDD: 2 GB