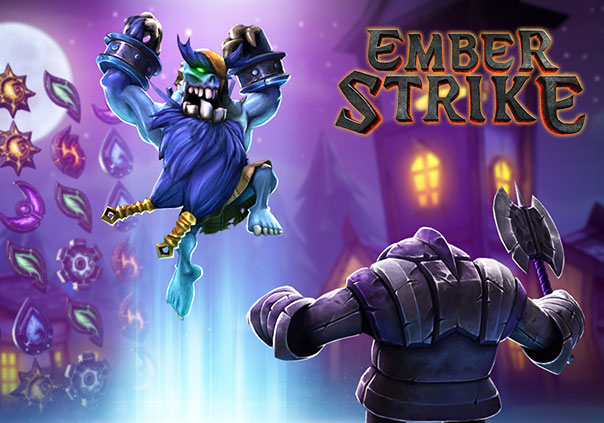 Ember Strike is a free-to-play 2D fantasy game developed by Reentry Games for iOS, Android, and it is available on Steam Early Access for PC.
The game is primarily a PvP fighter based around action and strategy where players will engage in lightning-fast head-to-head battles. Your goal throughout the game is to collect and upgrade a team of monsters that you will help you win your battles. Every match will pit you against an enemy where you'll need to match 3 or more of a kind of different elements. Matching elements that match the elements of the monsters in your lineup will result in them gaining power and eventually executing a visually impressive special move.
Although monster skills are an important factor in the battles you encounter, the most important factor is actually your quick-thinking. Every match is fought in real-time where you and your enemy will actually share the same game board where you'll be matching your elements. This leads to very intriguing types of strategy where you'll be planning out your own moves, trying to match elements that match your monster's elements, and possibly making matches of completely different elements so your opponent can't make them for themselves!
In singleplayer mode you'll work your way across the game world level by level fighting bosses, earning gold, and collecting embers. Gold and embers can  your monsters even stronger which can be used to upgrade your monsters and make them even more powerful. Multiplayer battles are where the real fun happens and you'll be pitted against another player, testing your wits and reaction-time against them to determine who is the best and fastest matcher!
If you're a fan of matching games, but seek something a bit more edgy and fast-paced, then Ember Strike is for you. With its impressive visuals and lightning-fast gameplay Ember Strike will have your cursor or finger flying all over your screen in no time
Status: Pre-Release
Release Date: May 26, 2016
Business Model: Free to Play
Developer: Reentry Games
Publisher: Reentry Games
Category: Stand-alone, Mobile
Genre(s): 2D, Fantasy, Strategy
Platforms: PC, iOS, Android

Pros:

+Good visuals.
+Microtransactions don't affect competitive gameplay.
+Satisfying game progression.

Cons:

-Some players use PvP bots.
-RNG can make it very hard to acquire higher level cards.
-Mobile UI on desktop version.



Recommended System Requirements:

OS: Windows XP / iOS 6.0 / Android 4.0.3 or later
RAM: 1 GB
HDD: 300 MB



Karos Online Review
Karos Online is an extremely polished fantasy MMORPG that offers many interesting features.
by Guest