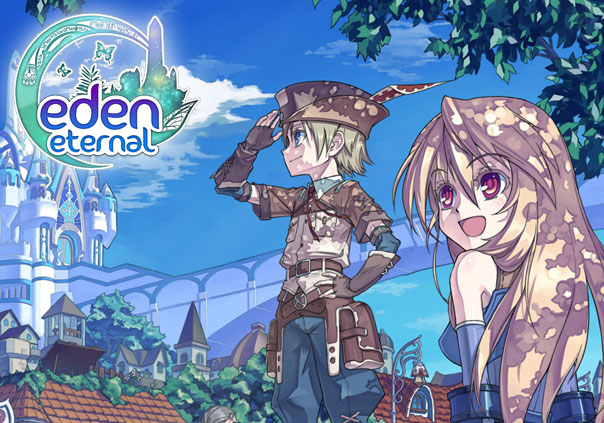 Eden Eternal is a fantasy themed MMORPG that transports players into a world in desperate need of harmony. After several races migrated to a newly discovered continent for a fresh start they quickly found out from firsthand experience that old habits are hard to break. A disagreement about the direction their future should take erupted into firestorm ignited previous racial hatred and tension. A devastating war has left Eden in turmoil. Players step into the shoes of a mysterious hero with magical powers. Although their origin is still unknown they must take on the role of an Eternal Guardian fighting the evil plaguing the lands. Destroy an assortment of monsters and local beasts. Kill fierce boss creatures and other players. Complete challenging quests. Find a Soulmate or adopt a pet to assist in your journey. Similar to other X-Legend and Aeria Games' titles like Grand Fantasia and Kitsu Saga Eden Eternal has cool anime style graphics. Players are not limited to one class per character. As they progress new classes are unlocked which can be switched at random. All players may choose one of six classes from the start (Warrior, Cleric, Magician, Hunter, Thief and Luminary). There are 19 total classes, some unlockable at a certain level.
Heroic Traits – Leadership, Guardian, Apostle, Commando, Sanctum, Maverick, Adventurer, and Crack Shot.
Defense Classes:
Warrior– They are skilled soldiers equipped with heavy armor in the form of swords and axes. Their ability to easily take out opponents and yield high level of damage make them worthy adversaries.
Knight- The Knight offers a different style of play than the Warrior. They have lower defense values, but make up for this disability with high evasion. Rather than focusing on single targets, knights can take on groups of enemies to make fights easier on teammates.
Templar – Deeply rooted in their religious beliefs these spiritual warriors call of the power of God to punish the evil terrorizing the lands.
Dragon Knight- Dragon Knights wield spears with force, and cover themselves with dragon scales for defense.
Melee DPS Classes:
Thief – Nimble and fleet of foot, this class is designed deal large amounts of damage over time. They have high evasion and can stealth, along with being able to stun enemies when coming out of stealths
Martial Artist- Having both offensive skills and defensive skills , they can beat down their enemies with an onslaught of fists. The more times they hit an enemy while under their Charge, the more attack speed and physical attack they gain.
Blade Dancer – These costumed, elegant dancers are masters of manipulation and movement. They use their bodies and choreography to perform magical manipulation on enemies or provide helpful buffs to fellow players. Blade Dancers are also masters of swordplay and can wield two weapons at once with deadly results.
Samurai – Samurai abilities focus on combo moves and breaking through enemies' resistances.
Ranged DPS Classes:
Hunter – The Hunter can attack the enemies at a distance and leave them there, forcing them to stay in one spot until the rain of arrows has left their heart motionless. Hunters are experts in the ways of the great outdoors, and use their connection with nature to provide stat buffs and even summon wild creatures to their side.
Engineer – Engineers' abilities call on gadgets, gizmos, and high-tech weaponry to deal explosive damage from afar.
Ranger – Rangers are very meticulous in their actions. They analyze opponents' weaknesses and execute blows that will do the most amount of damage. This class has mastered delivering devastating attacks from afar.
Support Classes:
Cleric – Clerics cast a variety of magic spells and prayers to heal damage and remove harmful status effects from themselves or other players.
Bard – Bards are wandering poets, storytellers, musicians, and singers who use their talent and instruments to attack and cast helpful buffs.
Shaman – Shamans are in tune with nature around them, harnessing vines to ensnare enemies, summoning rain to heal allies, or calling upon the earth and wind to buff others. Shamans can also summon totems that either heal or deal damage for them. In times of great need, the Shaman can even call back fallen comrades from death in the midst of battle.
Sage – Sages abandon the traditional safety of other healers by choosing to heal and attack at the frontlines instead of keeping at a safe distance. Sage demolish enemies with Hammers, while casting powerful auras that shield allies from negative effects while simultaneously offering supportive buffs.
Magic DPS Classes:
Magician – Magicians use the elements to strike large groups of enemies at once. However, these members of the Magic DPS branch are very vulnerable to enemy attack, and should tread with caution to avoid being overwhelmed.
Illusionist – Illusionists are masters of trickery and distraction. By charming enemies into fighting for them and putting foes to sleep, the Illusionist can outwit and deceive even the most cunning of opponents. Illusionists can also cast spells that boost the abilities of allies.
Warlock – Warlocks will often implant a Dark Parasite or inflict fear in enemies, sacrifice their own grotesque summons to boost their own power, and finally devastate opponents with a Nightmare Attack or other shadow-born magic.
Luminary: The Luminary uses swords to cast both light and dark magic, and is a special class that may be started at level 1.
Special Classes:
Mimic – The Mimic can use every class skill in the game, and has no limitations on skills or armor. It requires level 60 to unlock.

Status: Released
Release Date: Oct 28, 2010
Business Model: Free to Play
Developer: X-Legend
Publisher: Aeria Games
Category:

Stand-alone

Genre(s):

3D, MMO, RPG, Fantasy

Platforms:

PC


Editor's Score: 4/5

Pros:

+Unique class system.
+Great graphics and interface.
+Fast-paced combat.
+Guild towns.

Cons:

-Each class only has a handful of skills.
-Gameplay can be repetitive at times.



Recommended System Requirements:

OS: Windows 98/ XP / 2000 / Vista / 7
CPU: Intel Pentium 4 2.8 GHz
RAM: 1GB
GPU: nVidia GeForce FX 6600, ATI Radeon X600, or better.
HDD: 2GB



Description: Eden Eternal is a 3D anime inspired fantasy MMORPG where players become mysterious heroes with an extraordinary ability to wield magic.
In this latest update, AlternativaPlatform has enabled players of the 3D-MMO-browser game 'Tanki Online' to spontaneously change their equ...
by DizzyPW
Pele is the goddess of Fire, Dance, Wind. Goddess of Volcanoes and Violence.
by Ragachak
Continent of the Ninth is a fun adrenaline pumping action MMORPG that's infused with just the right amount of fantasy and PvP mayhem to keep...
by Guest