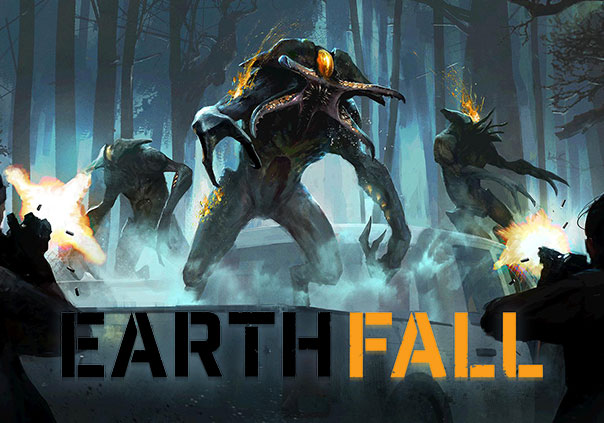 EARTHFALL is an upcoming co-operative shooter developed by Holospark for PS4, Xbox One, PC, and will be available on Steam Early Access. In EARTHFALL the end of the Earth has finally arrived. A global meteor strike has pelted the planet, leaving not only destruction in its wake, but also alien lifeforms that are swarming the planet.
Those who lived average lives before are anything but now, having to stand together and fight back the alien scum by any means necessary. That means various weapons, supplies, and defense mechanisms will have to be used if they wish to take back the planet that was once theirs without contest.
Players will be given the chance to play with three other players co-operatively or fight alongside AI-controlled companions, completing campaigns that reveal more about the cataclysmic events of the alien invasion. By using advanced 3D-printing technology players will be able to create a variety of different weapons, finding the perfect firearm to add to their alien-slaying equipment.
Building will also become an important part of everyday survive. Barricades and turrets will be the primary structures that stand between you and the extra-terrestrial invaders. You will find that being prepared isn't a bad thing in EARTHFALL. Everything from massive armies of alien drones to plasma-spitting behemoths will be after you, and they didn't come to be friends. You'll be glad that you set up some extra defenses when every wave of enemies coming to rip you to shreds is completely unknown and unpredictable.
Only the most tactical teams that are willing to work together and fortify their hideouts as a single unit will be able to withstand the onslaught of aliens and take back the Pacific Northwest. EARTHFALL is no laughing matter!
Status: Pre-Release
Business Model: Retail
Developer: Holospark
Publisher: Holospark
Category:

Stand-alone

Genre(s):

3D, Sci-Fi, Shooter

Platforms:

PC, Steam, Xbox One, PS4



System Requirements not yet known.


Description: EARTHFALL is an upcoming co-operative shooter where players can work together to defend themselves against an onslaught of alien invaders. Only the most tactical teams that are willing to work together will be able to fortify their base well enough to survive.
In order to keep her playstyle from Overwatch, Tracer's passive ability, Reload, allows her to attack while moving.
by Abubakr
Funcom wishes to invite you to an all new Holiday Event unlike any other! See the Magic Flute opera, fight your way through ancient conspiraci...
by Mikedot
Day 3 held the title I was most excited for personally, and you will be too, when you see more on it, and that's Gigantic.
by Ragachak