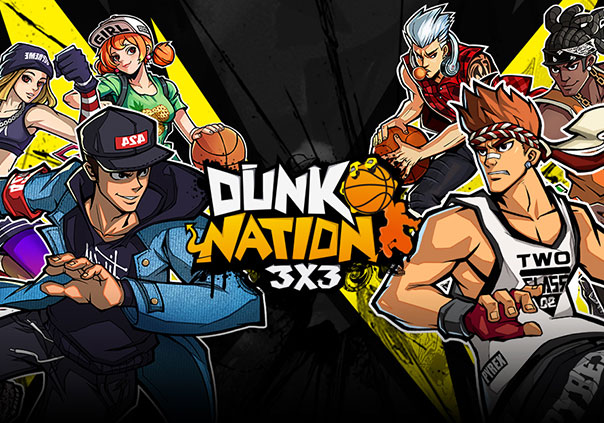 Dunk Nation 3×3 is a free-to-play mobile basketball game developed by Halcyon for iOS and Android where players can battle each other in fast paced, arcade style matches of half court street ball. In Dunk Nation 3×3 there are two main types of game modes that you can play: Career Mode and PvP.
In Career Mode players are set up with a series of challenge games to beat that increase in difficulty the further your progress. Games are split up into different chapters, and within each chapter the last game you play is a championship game. Beat the championship and you can move on to the next chapter. As you play you'll also gain experience points that can be cashed in to make you a better basketball player.
In PvP Mode players can match up against each other in real time games with 3 players on each team. Pass, crossover, and shoot your way to victory with your team. As you win matches your rank will improve, meaning you will be paired up with higher skilled players, but also have to face even better opponents. If you want to play with the best, you've got to be the best! Put in time and effort like any sport and you're sure to see results.
There is even an option to play alone so you can get some practice in. Making sure your shot and rebound timings are exact can take a lot of time to master, but you'll reap the rewards of your exceptional reaction skills in real matches. It never hurts to prepare for upcoming matches or learn from your mistakes by practicing.
Square off against players from all across the globe and show them your basketball skills. Win matches, earn new outfits, and become just as flashy as your skills in Dunk Nation 3×3!
Status: Released
Release Date: Jun 12, 2017
Business Model: Free to Play
Developer: Halcyon
Publisher: Halcyon
Category:

Mobile

Genre(s):

3D, Sports

Platforms:

iOS, Android


Pros:

+Cooly, stylized graphics.
+Music works well with game.
+Fun grind elements.

Cons:

-Controls feel a little clunky.
-Rebounding mechanics need work.
-Shooting doesn't feel consistent.



Recommended System Requirements:

OS: iOS 8.0 / Android 4.0.3 or later
HDD: 333 MB



Description: Dunk Nation 3x3 is a free-to-play mobile basketball game where players can square off with each other in real time 3 versus 3 matches. Win matches, earn new outfits, and become just as flashy as your basketball skills in Dunk Nation 3x3!
Independent Glasgow based studio One Thumb Mobile today announced the launch of its free to play MMORPG, Celtic Heroes, on Android.
by Mikedot
SMITE's goddess of cats prepares to become a true cat burglar with the launch of her epic skin.
by DizzyPW
Adventurers rejoice, your epic journey is about to begin! The definitive massively multiplayer online (MMO) experience is finally coming. Aeri...
by Mikedot