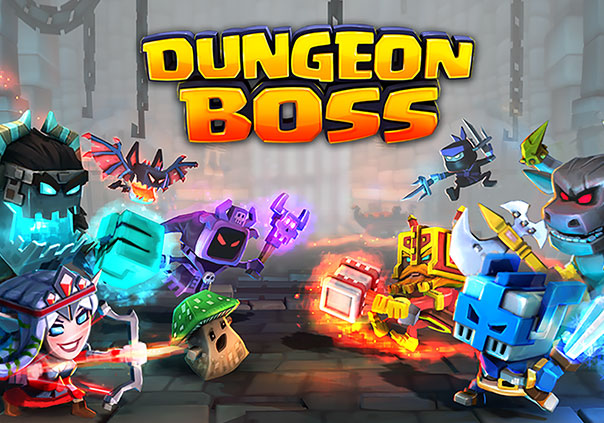 Dungeon Boss is a free-to-play mobile fantasy RPG developed by Big Fish Games for iOS and Android where players can battle to be the boss of the dungeon.
Players can form their own custom teams of over 70 different heroes, using them to fight off huge enemy bosses. Heroes can be everything from goblin warriors and ninja assassins to majestic knights and mythical beasts, all of which have their own pros and cons to offer a team. Heroes can also be upgraded as you play with different grades of equipment and runes. Even their Epic abilities can become available to you over time and skins can be unlocked to customize each hero's appearance.
Once you've decided on your team of heroes you can take them into battles across a huge game map of dungeons, taking down bosses along the way. Synergy between your heroes and utilizing their unique attacks in the best ways possible will help you clear some of the hardest dungeons around, so make sure you put some thought into your team composition. The Tower of Pwnage, Challenge Mode, and Boss Mode are some of the other different types of game modes available for players to test their skills in.
In Dungeon Boss content will never be stale! There are plans to continue offering new types of daily campaign quests and weekly events that will reward you in a different kinds of ways. On-going events will also be present where you can earn some high-grade rewards for achieving the highest status possible in the events.
With consistently updated content and unique characters Dungeon Boss seeks to give players a game that will never go stale. Battle just how you'd like in a variety of game modes and lead your band of heroes to victory!
Status: Released
Release Date: Sep 07, 2015
Business Model: Free to Play
Developer: Big Fish Games
Publisher: Big Fish Games
Category: Mobile
Genre(s): 3D, RPG, Fantasy
Platforms: iOS, Android

Pros:

+Many different gameplay aspects.
+New weekly content.
+Great for casual play.

Cons:

-Microtransactions don't yield much benefit.
-Too hard to unlock heroes regularly.
-Energy system limits gameplay harshly.



Recommended System Requirements:

OS: iOS 7.0 / Android 4.0.3
HDD: 151 MB