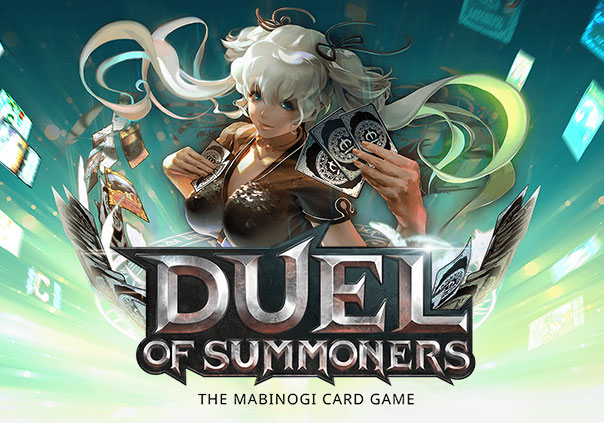 Duel of Summoners is a free-to-play fantasy TCG developed by NEXON that includes many familiar elements of the Mabinogi world. In Duel of Summoners players can summon the powers of epic heroes and immerse themselves in a fantastical world detailed through thrilling card battles and graphics.
With both singleplayer and multiplayer content planned for release the game will offer real-time, strategic card battles between players. If the singleplayer campaign or casual multiplayer matches don't suit your fancy and you're looking to truly test your skills, then you can fight in ranked matches and tournaments. Here you will be fighting for your honor so make sure you're ready before you jump into the fray.
Your deck is built before the match even begins, but it is only made up of 12 cards. The small number of cards that makes up your deck means figuring out your deck composition and what cards work well together is more important than ever! Changing a single card in your deck could influence the entire way it plays. Even more noteworthy is that Duel of Summoners is a card game without draws, further emphasizing your pre-game strategy and planning. Cards can also be traded with other players from around the globe, giving you a chance to help someone else out while acquiring exclusive cards in the process.
When squaring off with your opponent you will exchange turns with one another, summoning your powerful heroes and commanding them to attack. Five different lanes are available for you to play your cards on, but once those lanes are filled you won't be able to summon any more heroes until one of the lanes frees up.
Summoners from all across the world are clashing for dominance and power. How will you stack up to the competition?
Status: Released
Release Date: Sep 26, 2017
Business Model: Free to Play
Developer: NEXON
Publisher: NEXON
Category: Stand-alone
Genre(s): 2D, Fantasy, Strategy
Platforms: PC, Steam

Editor's Score: 4/5


Recommended System Requirements:

OS: Windows 7
CPU: Intel Core i3
RAM: 4 GB
GPU: Supports Open GL
HDD: 1 GB