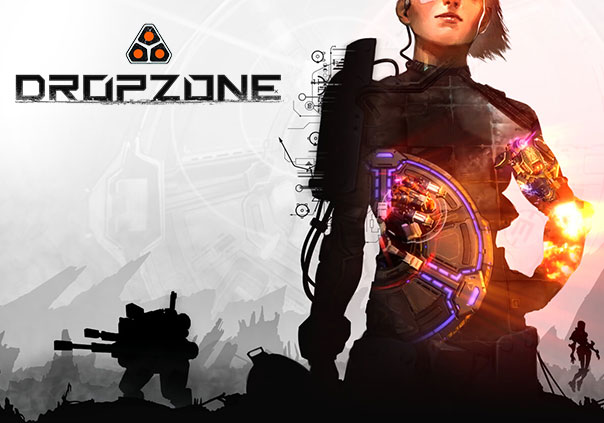 Dropzone is a highly competitive free to play sci-fi RTS developed by Gameforge 4D GmbH for PC set in the dawn of the 22nd Century. Humanity has become excessively dependent on Cores, an energy source discovered and mined from one of Jupiter's moons, however humans aren't the only ones seeking this new form of energy. The Kavash, a hostile alien race, have begun taking over Jupiter and are pushing humanity towards the brink of extinction.
This is where you come into play. You will act as a Core Hunter and command a squad of three pilots that each control their own battle-hardened rigs. Rigs can be of different types, the initial three being Tank, Mechanic, and Gunner. Tanks are the toughest of all rigs and move very slowly, Mechanics take on the role of a versatile supporting unit, and Gunners can dish out heavy damage, but they have relatively little armor to hide behind. By mixing and matching unit types you will be able to experiment with different strategies and figure out what works best for you.
You will need to compete for rich resources in this dangerous lifestyle, deploying and dividing your attention to effectively dominate the battlefield in 1v1 matches. With only you and your opponent present on the battlefield, Dropzone puts a heavy emphasis on individual skills and tactical know-how. Cores will not be your only target either! Randomly selected objectives throughout the map will also add points to your score when captured and ultimately contribute to your victory or utter demise.
If you've got a tactician's mind and the skills to fend off an invasive species, Dropzone will place you right into the action and put your skills to the test!
Status: Pre-Release
Release Date: Apr 12, 2017
Business Model: Free to Play
Developer: Sparkypants Studios
Publisher: Gameforge 4D GmbH
Category:

Stand-alone

Genre(s):

3D, MOBA, Sci-Fi, Strategy

Platforms:

PC


Pros:

+Individual skills put to the test.
+Objectives provide an alternative way to win games.
+Short match times.
+Customizable rigs.

Cons:

-No team to fall back on.



System Requirements not yet known.


Description: Dropzone is a highly competitive sci-fi RTS developed by Gameforge 4D GmbH for PC set in the dawn of the 22nd Century where humanity has become increasingly dependent on a new energy source called Cores, but they aren't the only ones trying to keep control of them.
Final Balde has a new update today, which adds several new systems to the game, such as the Evolution and Orb systems.
by Ragachak
This afternoon, Smite revealed the patch notes for update 3.4, continuing changes in Season 3 and revealing the next God, Skadi.
by MissyS