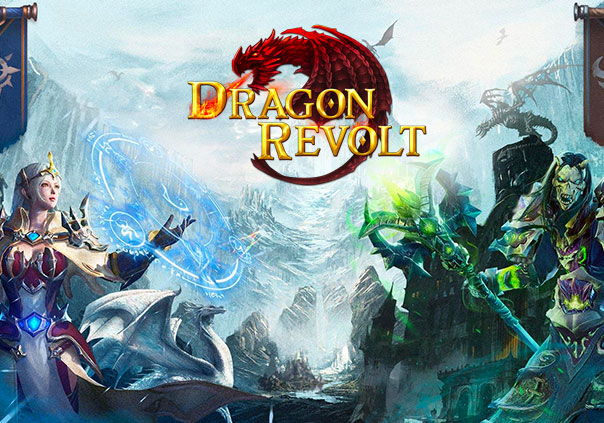 Dragon Revolt is a mobile fantasy MMORPG from Snail Games developed for iOS and Android devices where players must take up arms as an imperial power attempts to stop a renegade faction's uprising.
Players can choose between two different factions at war with each other: the Rossel Empire or the Asta Blood Alliance. Each faction has three different classic MMORPG classes for you to choose from. Players can become a cleric with healing powers, a powerful barbarian warrior, or a mage with magical powers. Each of the classes has six different skills that they can learn, but only four of them can be brought into battle so some forethought will need to be put into what skills will be most useful to you.
Classes can be further customized depending on the player's preference by equipping skill runes and assigning points throughout talent trees. Each class has three different tiers of talents that points can be put into, helping determine how you'll approach combat situations. No matter your tier all characters of the same general class will fight in a similar matter, but tiers are what will give you an extra layer of specialization.
Some of the biggest bosses you come across in your adventures, namely dragons, will not go down without a fight. It'll take more than just your strength to take down such mighty beasts, meaning you'll want to party up with other players of different classes to take advantage of the full effects of a diverse party.
Can you handle the excitement of slaying dragons being brought to the very palm of your hands? There are few who can even handle the dungeons in front of them, let alone the massive draconian beasts that wander the world. Choose your class, create your character, and find out if you've got what it takes in Dragon Revolt!

Status: Pre-Release
Business Model: Free to Play
Developer: Snail Games
Publisher: Snail Games
Category:

Mobile

Genre(s):

3D, MMO, RPG, Fantasy

Platforms:

iOS, Android



System Requirements not yet known.


Description: Dragon Revolt is a mobile fantasy MMORPG where players must take up arms as an imperial power attempts to stop a renegade faction's uprising. Whether it's dragons, dungeons, adventure, or riches you seek you're sure to find them in Dragon Revolt!
By now most fans of HiRez Studios mythological MOBA, SMITE, were aware the Hindu Guardian Kumbhakarna was joining the battlefield of the gods ...
by DizzyPW
Echo of Soul has added a host of new content with its new Wrath of the Goddess expansion.
by MissyS
Perfect World Entertainment has announced that Star Trek Online will launch its latest content update, Season 9: A New Accord, on April 22.
by MissyS