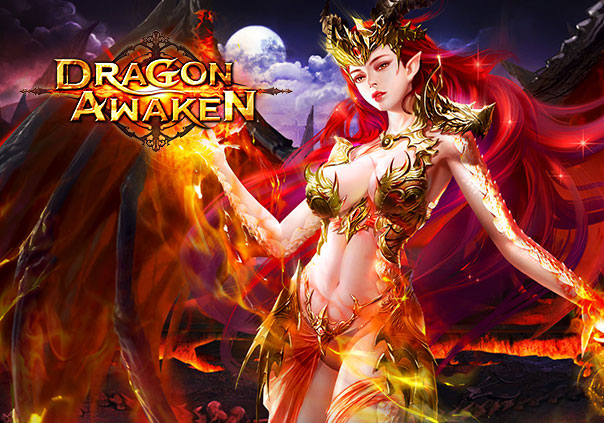 Dragon Awaken is a free-to-play fantasy browser MMORPG developed by Game Hollywood where a commander has led his forces against the dragon lair, but something goes wrong in the attack and some of the warriors end up possessing the power of a dragon, becoming a legendary dragon knight!
In Dragon Awaken players can become one of these dragon knights and explore the meaning of their newfound powers while making their way through different dungeons. As you progress you will be able to upgrade your character in the progression that suits you best, helping you escape from enemies, defeat armies, and hunt your targets.
Combat in Dragon Awaken is turn-based, giving players some time to determine what the best course of action is. Each battle will take place in a particular scene that varies in both look and feel. Scenes have four different layers of depth that actions will take place on, giving battles a little more depth than a single-layered scene.
On your adventures you'll come across different dragons that you can own and bring into battle with you. What makes them so special is that they can deal damage with special stats that will completely ignore an enemy's defenses, so you will want to keep them as strong as possible and find new dragons that are even stronger when the time comes. Dragons can even take control of your units in battle and provide them with extra stats by emitting powerful auras, pushing your entire team's strength to untold heights. You won't be at a loss for strength with a full-blooded dragon in your ranks!
Do you think you can handle all of the power and responsibility that comes with being one of the legendary dragon knights? Grow your power, collect your dragons, and see if you have what it takes in Dragon Awaken!
Status: Released
Business Model: Free to Play
Developer: Game Hollywood
Publisher: Proficient City
Category:

Browser

Genre(s):

2D, MMO, RPG, Fantasy

Platforms:

PC, Mac, Linux


Pros:

+Artistically impressive scenes.
+Multiple layers to fight on.
+Fun dragon collection.

Cons:

-Lack of hero customization.
-Combat lacks depth.



Internet browser required.


Description: ragon Awaken is a free-to-play fantasy browser MMORPG where players can become a legendary dragon knight and go on adventures in different dungeons. You will never be at a loss for power with the essence of a dragon coursing through your veins and actual dragons on your team!
Genesis A.D open beta begins next week. The 3D sci-fi themed MMOFPS from ijji is finally releasing into open beta.
by Guest
Today ArenaNet announces it has formalised plans to maintain a two-week major release schedule for Guild Wars 2, and reveals the latest conten...
by MissyS