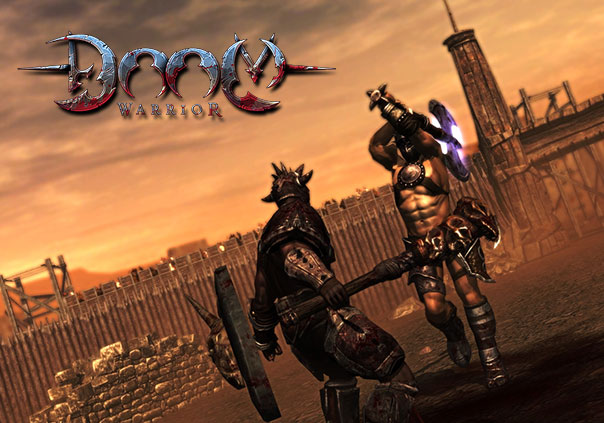 Doom Warrior is a free-to-play fantasy MMORPG developed by Creaky Corpse Ltd. for PC, Mac, Linux, iOS, and Android where players can engage in brutal gladiatorial combat in arenas. Your objective in the game is simple, enter the Arena and defeat any other combatants that stand in your way to greatness.
Battles are fought in 1 versus 1 duels where players will execute directional strikes against each other while trying to block the other's attack with a directional block. Special abilities can also be activated during combat to get the jump on your opponent. Both regular attacks and special abilities will deplete your energy in battle, so make sure you don't tire your character out and overuse attacks and abilities. Knowing when to strike, when to block, and when to let your energy replenish are key to becoming a strong warrior.
Of course the biggest choice of any warrior is what to do with their fallen foe. Will you be merciful and spare them, or will you execute them for their defiance? Either way the rewards you receive from the battle will be the same, but executing someone will cause victims and their clans to lose a percentage of their gold and sometimes even their Battle Points for the specific arena they fought in. This is important during weekly League competitions, but beware that executions could cause you to gain some new enemies that will come back in the future to take revenge with their friends!
As you progress and reap the rewards of your efforts you'll be able to upgrade your equipment with the gold you've earned. Different pieces of armor and weaponry can be equipped provided you are a high enough level to wear them. These will improve your stats and special abilities in varying ways and they can even be reforged to look like other weapons and pieces of armor, allowing you to customize your look.
Will you be a merciful warrior, or execute everyone in your path and become a tyrant? There are arenas that need conquered and other warriors that need put in their place. Go show them why you shouldn't be reckoned with in Doom Warrior!
Status: Released
Business Model: Free to Play
Developer: Creaky Corpse Ltd
Publisher: Creaky Corpse Ltd
Category:

Stand-alone, Browser, Mobile

Genre(s):

3D, MMO, RPG, Fantasy

Platforms:

PC, Mac, Linux, iOS, Android


Pros:

+Choice on how to end battles.
+Unique gameplay.
+Alter equipment appearance.

Cons:

-Great graphics for mobile, less impressive on PC.
-Lacks storyline.
-Not enough depth.



System Requirements not yet known.


Description: Doom Warrior is a free-to-play fantasy MMORPG where players can customize their own warrior and enter into 1v1 gladiatorial combat. Be a merciful warrior and let your fallen foes live, or execute them and affect their entire clan's reputation. The choice is yours!
Insel Games has announced that they have improved their server structure for Guardians of Ember, recently released in Steam's Early Acces...
by MissyS
Sony Online Entertainment has announced that it is now opening up (from Alpha on) the ability to join the development team in building EverQue...
by MissyS
Players can now create and customize a multilayer coats of arms
by Mikedot