*Note: This game has been cancelled or shut down and isn't available for play.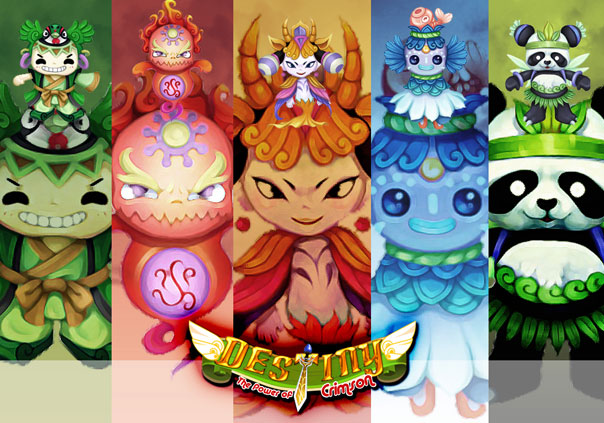 Destiny Online is a 2D Fantasy MMORPG by EnjoyMMO. The graphics and gameplay in Destiny Online feels remarkably similar to other EnjoyMMO games. The game's most interesting feature is its in depth pet system. Players can capture practically any enemy in the game and customize their growth as they level up. The experience rate in game is fast paced, so players should be able to complete all of the newbie quests and have themselves nicely equipped within an hour or so after creating their character. The game's five playable classes are:
Warrior – Their key attributes are Strength and Vitality. They are the primary melee oriented character in Destiny Online and are capable of dealing large amounts of physical damage. They enjoy the highest HP in the game and high physical attack power.
Swordman – Their key attributes are Strength and Stamina. They are capable of dealing of dealing long-range physical attacks. They use long swords and other weapons which have a long reach. They are very similar to Warriors.
Mage – Their key attribute is Intelligence. They are the primary offensive spell casting class in Destiny Online. They have low HP but can devastating amounts of damage with their spells.
Taoist – Their key attributes are Intelligence and Spirit. They play a lot like mages, except their spells curse their opponents rather than lots of damage. They rely more on their pets than other classes.
Priest – Their key attribute is spirit. They are a supportive class capabable of both buffing their team mates as well as healing them.
Status: Shut Down
Business Model: Free to Play
Developer: EnjoyMMO
Publisher: EnjoyMMO
Category:

Stand-alone

Genre(s):

2D, MMO, RPG

Platforms:

PC


Pros:

+Great pet system.
+Excellent 'auto track' system of moving around and finding NPCs.
+Plenty of quests.
+Large game world.

Cons:

-Game feels too easy, enemies are not challenging.
-Cash shop items imbalance game.
-Poor interface.



Recommended System Requirements:

OS: Windows 95 / 98/ XP / Vista / 2000
CPU: Intel Pentium 3 500 MHZ
RAM: 128 MB
GPU: Any 32 MB+ Graphics Card
HDD: 2GB



Description: Destiny Online is a 2D Fantasy MMORPG by EnjoyMMO. The graphics and gameplay in Destiny Online feels remarkably similar to other EnjoyMMO games
Adventure Time is one of those enduring IPs that has spawned tons of games for consoles, PC, and even mobile platforms.
by Ojogo
Gloria Victis just received a massive update which adds a new fortress, Lordly Haven, to the in-game world.
by Ragachak