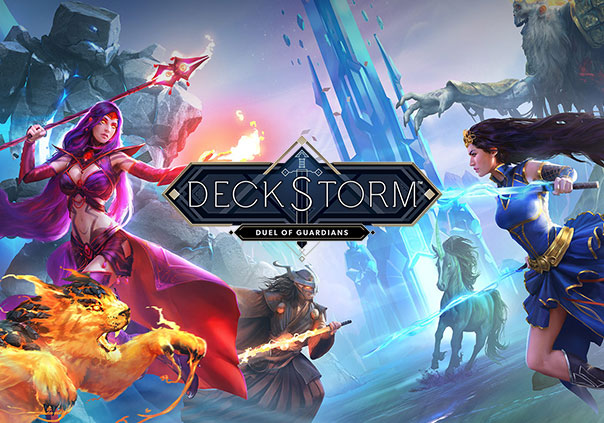 Deckstorm: Duel of Guardians
Deckstorm: Duel of Guardians is a free-to-play mobile CCG developed by DeNA Corp. for iOS and Android. In Deckstorm: Duel of Guardians you can become a Provenant of Ravia, one who is in charge of upholding the tradition of fueling the Sacred Spire with power to ensure that the Cycle of Ages continues, but now that greed has fractured the Provenants' priorities it is your job to take control of the chaos by capturing rogue Guardians.
Deckstorm: Duel of Guardians is clearly influenced by the classic card game of War, but in this game you can throw down customized cards that can result in explosive, synergistic wins! Before battles you can customize your deck to your liking from cards of 12 unique classes. These cards can also be upgraded through 7 different methods like spell upgrades and evolutions to make them and your deck as a whole even stronger.
Deckstorm's battles are both strategic in nature and have been implemented with the mobile player in mind. This means that matches generally last 5 minutes or less, but in that short amount of time you'll need to carefully calculate your opponent's possible moves, determine the risks of your own moves, and react accordingly if you wish to emerge victorious. Battles can take place in either the game's meaty singleplayer Campaign Mode or players can take to the Arena for action-packed, real-time duels against other players from around the world.
CCG fans will be captivated by Deckstorm's beautifully created cards and UI, but what will really have you coming back for more is the addictive quality of upgrading your cards over and over in a variety of different ways so that you can conquer the competition! Can you restore the Cycle of Ages and keep it moving smoothly?
Status: Released
Release Date: Jul 27, 2016
Business Model: Free to Play
Developer: DeNA Corp.
Publisher: DeNA Corp.
Category: Mobile
Genre(s): 2D, Fantasy, Strategy
Platforms: iOS, Android

Pros:

+Not too complicated, but not too easy to play.
+Good singleplayer content.
+Gorgeous art and UI elements.

Cons:

-Multiplayer content heavily influenced by payment options.
-Campaign not available offline.
-Too many in-game currencies.



Recommended System Requirements:

OS: iOS 7.0 / Adnroid 4.1 or later
HDD: 111 MB