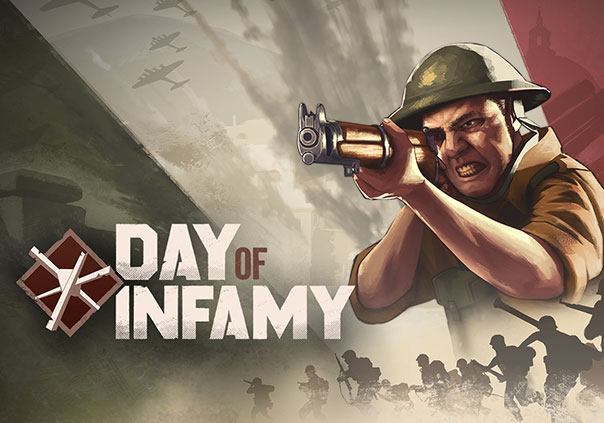 Day of Infamy is a buy-to-play 3D shooter developed by New World Interactive for PC, Mac, Linux, and is available for download on Steam. In Day of Infamy players can take to the battlegrounds of Europe during World War II. Everything from war-torn villages and farms to snow-covered forests will be the stages for your battles as the U.S. Army, Commonwealth Forces, or the German Wehrmacht.
With 9 different classes, 10 different game modes, and over 70 historical weapons and attachments players are sure to get a variety of experiences in every match. You will have to capture different objectives, steal enemy intelligence, eliminate opposing officers, destroy radio communication centers and more to succeed against your enemies.
You won't be able to just blindly run out into the action with guns blazing either. Day of Infamy is strategic in nature and will require you to make sensible decisions like laying prone to steady your aim, leaning around corners before heading down them, and walking slowly to effectively conceal the sound of your footsteps. Teams that stick together and use cautious tactics are sure to have the upper hand in any battle against a more disorganized team.
Taking on different team roles and learning how they work will be ever important to your team's success in Day of Infamy. Some of the most important classes like Officer and Radioman can be paired together to enable the request of things like supply drops, smoke screens, and bombing runs in the field. Becoming an Officer also means you'll be able to issue tactical commands to your allies like to flank your foes or take different objectives.
Take up arms in a historic regiment, fight your way through a war-torn Europe alongside your allies, and attempt to survive your Day of Infamy.
Status: Released
Release Date: Mar 23, 2017
Business Model: Retail
Developer: New World Interactive
Publisher: New World Interactive
Category:

Stand-alone

Genre(s):

3D, Shooter

Platforms:

PC, Mac, Linux, Steam


Editor's Score: 4/5

Pros:

+Realistic ammo management.
+Pacing of matches is great.
+Active community.

Cons:

-Lacks optimization.
-Lack of kill feedback.
-Bots can accidentally team kill you.



Recommended System Requirements:

OS: Windows 10 / OS X 10.7 / Ubuntu 12.04
CPU: Intel® Core i5 Processor (3GHz or better)
RAM: 8 GB
GPU: 2 GB VRAM or more
HDD: 15 GB



Description: Day of Infamy is a 3D shooter where players can fight through a war-torn Europe alongside their allies in multiplayer combat. Become one of 9 different classes, fight in 10 different game modes, and customize your character with over 70 weapons and attachments!
Under Night In-Birth Exe:Late the latest anime fighting game from Arc System Works' catalog will be available today at 6PM PST on Steam (...
by MissyS
Battlestate Games Studio has announced that Escape from Tarkov's technical Alpha testing has begun.
by MissyS