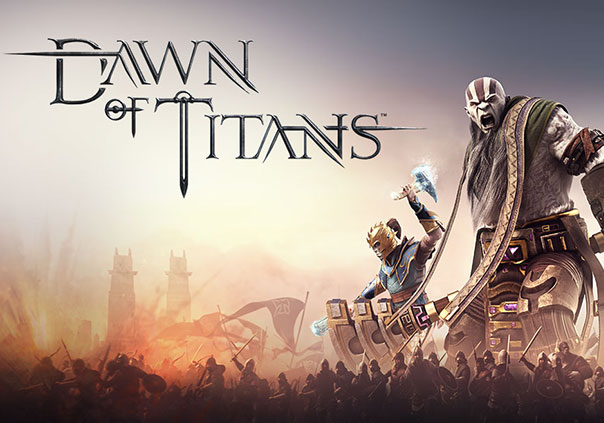 Dawn of Titans is a free-to-play fantasy mobile strategy game where players can lead epic titans into huge 3D battles, featuring thousands of troops that are all controlled by none other than yourself!
Before engaging in battle players can set up their army, choosing what troops they want to include as well as what titan they want to use. All of your troops can be given an initial directive just before the battle begins, but after that it's all up to you to control them. Just tap on your screen to instruct your units where to move, then watch the chaotic carnage unfold!
The strategy truly begins once the battle does. Changing what enemy units your own units are targeting, carefully directing your titan throughout the battlefield, and utilizing an array of spells at opportune moments will be key in your success. Every movement matters, especially if you don't want to see the units you've raised getting slaughtered in beautifully rendered 3D graphics.
Back at your kingdom is where all of the magic happens to support your efforts. Your barracks is where you'll train your soldiers, your farms will help keep them fed, and upgrading your various structures will increase their effectiveness and enable you to expand your forces. Upgrades will cost you time, money, or both so you'll need to prioritize what your immediate needs are when upgrading structures. New titans can also be acquired back at your kingdom where you'll spend your virtual currency in a system that will present you with a randomized titan.
In Dawn of Titans you will create your armies, upgrade your structures, raise your titans, and take over your enemies' territory on your quest to make your kingdom as strong as possible in some of the best mobile graphics around!
Status: Released
Release Date: Dec 09, 2016
Business Model: Free to Play
Developer: NaturalMotionGames Ltd.
Publisher: NaturalMotionGames Ltd.
Category:

Mobile

Genre(s):

3D, Fantasy, Strategy

Platforms:

iOS, Android


Pros:

+Great mobile graphics.
+Truly tactical combat.
+Impressive mobile graphics.

Cons:

-Hard to acquire good new Gods.
-Difficult inventory management.



Recommended System Requirements:

OS: Android 4.1, iOS 7.0
HDD: 1.2 GB



Description: Dawn of Titans is a free-to-play mobile strategy game where players can lead entire armies in huge battles. Control what happens on a chaotic battlefield where not only armies will clash, but titans will clash and spells will cause the very earth to shake!
Kill3rCombo has introduced a new gameplay system for Elsword Online.
by MissyS
I'm a sucker for a good card game, but in this era of online CCGs, it's pretty damn hard to innovate and try something new.
by Ragachak
Agents of Yesterday - Artifacts, the latest update for Star Trek Online, is now available.
by MissyS