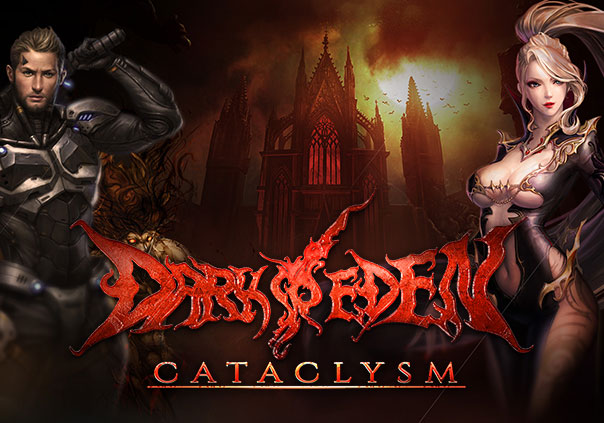 Dark Eden is a free-to-play 2D vampire themed MMORPG developed by Polymould Digital Thailand for PC. It was originally released in 1997, but was re-released in 2016 and is now available for download on Steam.
In Dark Eden players can experience an intense war between three different races: the Vampires, the Slayers, and the Ousters. The game is centered around battling for the birthplace of humanity, Eden, and the power of eternal life that comes along with it.
Vampires and Ousters both use a leveling system, whereas the Slayers use a skill system. Each race also has its own growth system, item configuration, monetary units, and classes to use. Different mounts can become available through different races as well like motorcycles, helicopters, bats, warp tunnels, and more that enable characters to quickly traverse land. Even more interesting is that as time changes between day and night, not only will the scenery change but so will different race's stats. Vampires will get stronger at night time, whereas Slayers and Ousters will grow stronger during the day. Visibility will even change for different races at the differing times of day as well!
Clans also play a pivotal role in Dark Eden. By joining up with a clan other players you'll gain allies to not only exchange tips with, but help protect each other from enemy players. Clans will also be useful when the Bible War occurs every two weeks. In Bible Wars players will fight alongside their race members for bibles where the more bibles you can collect the more stats your race will gain until the next Bible War.
Battle for Eden and your race's rights to eternal life in Dark Eden, but don't get caught out when and where you shouldn't be!
Status: Released
Release Date: Nov 26, 2016
Business Model: Free to Play
Developer: Polymould Digital Thailand
Publisher: Polymould Digital Thailand
Category:

Stand-alone

Genre(s):

2D, MMO, RPG, Fantasy

Platforms:

PC


Pros:

+Dynamic stat changes based on time of day.
+Large number of active skills to choose from.
+Many passive skills to customize gameplay.

Cons:

-Rough english dialogue.
-Dated graphics.
-Easily hackable.



Recommended System Requirements:

OS: Windows 7
CPU: 1 Ghz or faster
RAM: 2 GB
GPU: Direct X 9.0 compatible or above
HDD: 4 GB



Description: Dark Eden is a free-to-play fantasy horror MMORPG where three different races will battle for rights to humanity's birthplace, Eden. With the power of eternal life hanging in the balance you'd better be ready to lay your life on the line!
Novus AEterno has updated news on their Kickstarter campaign and game development, including assistance from OKTA studio.
by MissyS
Today, online games developer InnoGames launched the new Tribe Skills feature for its strategy game Tribal Wars 2.
by MissyS
Today, Perfect World Entertainment Inc. and Cryptic Studios announced the addition of three actors from Star Trek: Voyager who will be joining...
by Mikedot