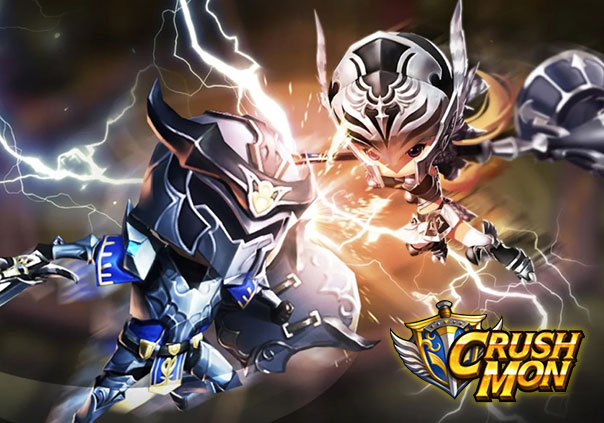 CrushMon is an upcoming free-to-play mobile fantasy ARPG developed by Nexon for iOS and Android. In CrushMon players can become a hero and choose from four different cute chibi characters, using them to drive back the forces of evil.
Characters in CrushMon are gender-locked and each have their own unique roll to fulfill. Ares is a male that uses a sword, Kain is a male that uses a bow, Marin is a female that uses a hammer, and Tyria is a female that uses a magical staff. Each character can be geared with up to 6 different pieces of equipment and over 20 runes to customize their playstyles. Characters are even uniquely voiced over to help bring them to life!
Those seeking companionship can collect different kinds of pets to help them on their adventures. Different pets have unique skills and abilities that will help you in a variety of ways in combat. Three of your pets can be taken into battle with you where two of them will offer you passive buffs and one can be actively summoned for a short period of time.
There are a wide variety of game modes available for you to play in CrushMon. Over 120 PvE stages are available for you to conquer, synchronous co-op game modes, and towers that can be challenged for epic rewards. The most daring heroes can take to asynchronous PvP matches to show off their strength and see how well they match up to other heroes. Different daily and weekly challenges will become available for you to complete as well and give you new goals to strive for.
Who says you can't be cute while defending the world from evil? Gear your own cute chibi characters, collect pets, fight to grow stronger, and push back evil forces in CrushMon!
Status: Released
Business Model: Free to Play
Developer: Nexon
Publisher: Nexon
Category:

Mobile

Genre(s):

3D, RPG, Fantasy

Platforms:

iOS, Android



System Requirements not yet known.


Description: CrushMon is a free-to-play mobile fantasy ARPG where players can defend the world from evil forces with cute chibi characters. Gear up your characters, collect pets to help you in battle, and fight for all that is good in the world in CrushMon!
The Gods' Game is a hard LitRPG novel set in a fantasy world.
by MissyS
As impressive as the demo I witnessed was, it's only about two-thirds of the one to completion. If you're curious to see it for your...
by DizzyPW
Dark Blood, the hit free-to-play hardcore action MMORPG arcade brawler, released an exciting new Tag Mode to its PvP system that enables playe...
by JamesBl0nde