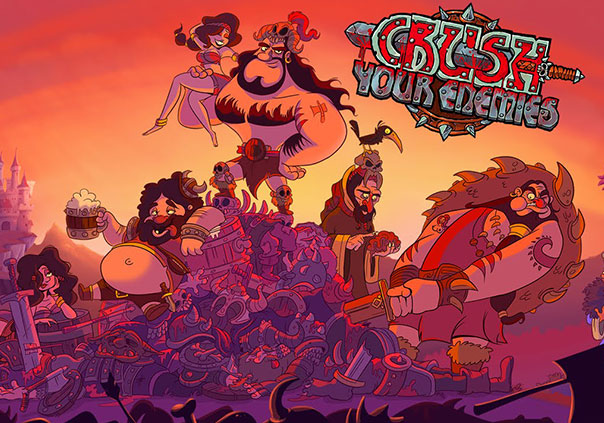 Crush Your Enemies is a 2D RTS game with a focus on humor developed by Vile Monarch for PC, Mac, Linux, iOS, and Android. If you're growing tired of the countless fantasy worlds with brave knights and slender elves you're out of luck…because Generia is yet another one of those worlds, but thankfully there are a group of ruthless barbarians on their way to plunder villages, impale settlers, be inappropriate in every way possible, and drink beer to their heart's content. Best of all, you are their leader!
In Crush Your Enemies you can enjoy the olden days of awesome RTS games, but now you won't have to spend over an hour just trying to win a skirmish! Crush Your Enemies lets you leap right into the action and obliterate hundreds of enemies in just a few minutes. You'll have to plan out your moves, decide what kinds of units to use, carefully manage your resources, and straight up outwit your opponents if you want to end up victorious. Your inventory will also have to be managed expertly when you can acquire items that could sway the tides of battles!
Crush Your Enemies offers players both singleplayer and multiplayer content. In singleplayer you can experience hours of comical, strategic goodness where you'll not only be outwitting AI opponents, but also laughing at the entertaining dialogues that take place in cutscenes. Even the bosses will be entertaining in nature, like the Giant Death Snail that would love nothing more than to head-butt you into submission. Multiplayer matches can be held online and across different platforms, giving you a much larger pool of potential opponents to take on.
Humor, ridiculousness, strategic decisions, crazy bosses, and insurmountable bloodshed await you in Crush Your Enemies.
Status: Released
Release Date: Jul 13, 2016
Business Model: Retail
Developer: Vile Monarch
Publisher: Gambitious Digital Entertainment
Category: Stand-alone, Mobile
Genre(s): 2D, Fantasy, Strategy
Platforms: PC, Mac, Linux, Steam, iOS, Android

Pros:

+Hilarious, dirty humor.
+Short match times.
+Nice, retro artwork.

Cons:

-Feels as if it should really only be a mobile game.
-Extensive importance on timing.
-Not enough content for the game price.



Recommended System Requirements:

OS: Windows XP / OS X 10.8 / Ubuntu 12.04 or later
CPU: Intel from 1.2 GHz or equivilent AMD family
RAM: 1 GB
GPU: DirectX 9 compatible graphics card
HDD: 110 MB