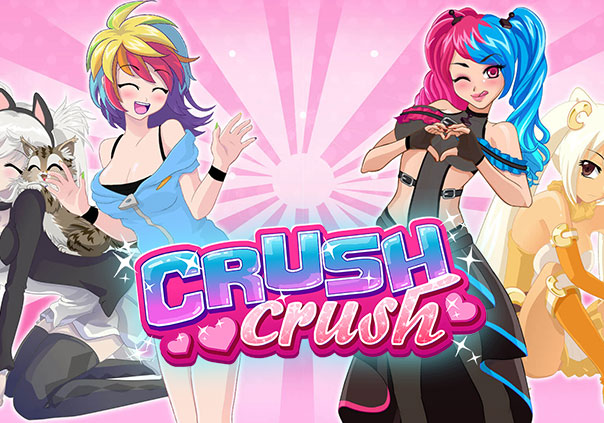 Crush Crush is a free-to-play 2D dating game developed by Sad Panda Studios that can be played in any support Internet browser. In Crush Crush players will meet, flirt and fall in love with a cast of sweet, seductive, and sometimes scary girlfriends.
By getting jobs, earning promotions, and boosting your stats you'll be able to impress 14 beautiful girls, but don't think sweeping them off of their feet will be as easy as just that! You'll also have take them out on romantic dates, socialize with them properly, and give them gifts that appeal to their specific tastes. You'll even be able to work towards your goals with the girls while you are away from your game by setting up jobs and hobbies for you to work and practice before you leave. When you come back you'll be rewarded with great progress depending on how long you were away. If you find that even with passive progress that you're still having too many issues reeling in the loves of your life, then you can also make some microtransactions to boost your progress and help you towards acquiring the love of your life!
Along the way you can earn momento photos of your relationships, setting your favorite moments from your relationships in stone. Some might even be saucy pics for reaching "Lover" status. Scandalous! You'll even be able to buy your waifu's outfits to dress them up with, making them even more adorable than they already were.
If you're looking for a game that's for players who've got game, then look no further than Crush Crush. With its lovely assortment of girls, jobs, hobbies, and a "Time Block" system you'll be on your way to true love in no time!
Status: Released
Business Model: Free to Play
Developer: Sad Panda Studios
Publisher: Nutaku, Steam, Kongregate
Category:

Browser

Genre(s):

2D, Simulation, Casual

Platforms:

PC, Mac, Linux, Steam



Recommended System Requirements:

Internet compatible browser.
RAM: 2GB
GPU: GPU with more than 128MB of VRAM



Description: Crush Crush is a free-to-play 2D dating game developed by NUTAKU where players can date 14 different lovely girls, each with their own personalities. Dates, jobs, hobbies, and gifts will all become important factors that determine your success with each of the girls.
Gaijin Entertainment announces that it has begun a long-term collaboration with the Russian Kubinka Tank Museum.
by MissyS
Today, SMITE has released its latest patch for the game, with the star of the update being a rework for the goddess Nu Wa, along with a visual...
by MissyS
Editor's Note: I have not beat SMITE RPG - Nightmare Mode yet. But I did check out and study the stream of Daytoremeber, world first.
by Ragachak