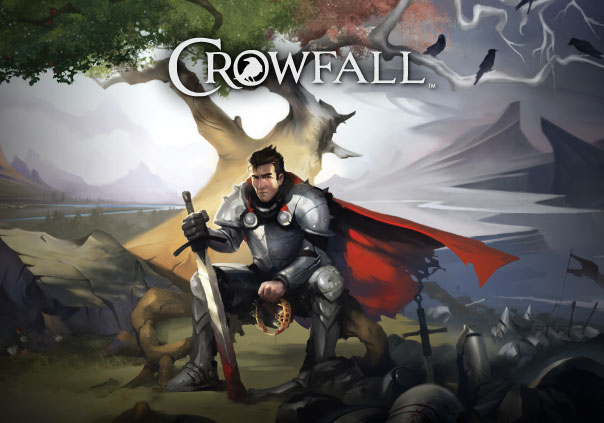 Crowfall is a PC MMORPG in development by ArtCraft Entertainment Inc. with many features not typical to current MMORPGs. Players assume the role of a Crow, a champion given the task of traveling between worlds to conquer new and exciting lands. Players will constantly have new experiences when sending their crows into dynamic Campaign Worlds. It is not a stretch to consider Crowfall a "throne war simulator" where players look to secure both riches and new lands.
Features:
Player Controlled Worlds: The Eternal Worlds of Crowfall are completely managed by the player-base. The player's Kingdom serves as a home base where players manage their resources and preside over their lands. Players hold the rights to divvying up the land of their Kingdom to others, or holding it for themselves.
Customizable Classes: Upon creation players must first choose an archetype for their character. Next the player can select advantages and disadvantages which are based on a point system and will either increase or decrease a character's effectiveness in a particular area. Points can be gained by selecting a disadvantage. Points can be spent by selecting an advantage. Later on players are presented with the chance to promote their character to a new class or take on a discipline. Disciplines like like "Archery" or "Bounty Hunter" are used to further specialize the player's character.
Permanent and Temporary Worlds: Crowfall contains two different kinds of worlds: Campaign Worlds, which yield different materials like stone, iron, and wood and generally exist for 1 to 3 months, and Eternal Worlds, which last forever but don't actually contain any resources . Crowfall's Campaign Worlds have an interesting dynamic nature, cycling through the four different seasons: Spring, Summer, Winter, and Fall. As the seasons progress and change, the environment of the Campaign World too changes with them. As Winter nears monsters become more deadly and the Campaign World will eventually be taken offline once the Winter season ends.
Perishable Environments: The Campaign Worlds of Crowfall built out of voxels, meaning that the entire world can be altered and destroyed! Players decide the shape that worlds will take; whether or not forests will be desecrated and bridges will crumble.
Archetypes:
-Druid
-Ranger
-Champion
-Confessor
-Knight
-Assassin
-Templar
-Frostweaver
-Duelist
-Stalker
-Forgemaster
-Legionnaire
Status: Pre-Release
Business Model: Retail
Developer: ArtCraft Entertainment, Inc.
Publisher: ArtCraft Entertainment, Inc.
Category:

Stand-alone

Genre(s):

3D, MMO, Fantasy

Platforms:

PC


Pros:

+Evolving worlds
+12 unique archetypes
+Specialization through disciplines
+Crafting/Resource management
+Destructible environments
+Player selected advantages/disadvantages

Cons:

-Limited Information Available



Recommended System Requirements:

OS: Windows XP / Vista / 7 / 8
CPU: Intel Core i5 / AMD FX series, or better
RAM: 4 GB
GPU: Nvidia GeForce GTX 400 series or better
HDD: 10 GB



Description: An upcoming PC MMORPG which puts players in charge of controlling the game world.
XLGames and Kakao Games are happy to announce that the Great Prairie of the West region is now available for all ArcheAge players.
by MissyS
Prifddinas, the high-level content capital of RuneScape -- Jagex's flagship MMO -- has finally opened its doors to players.
by Mikedot