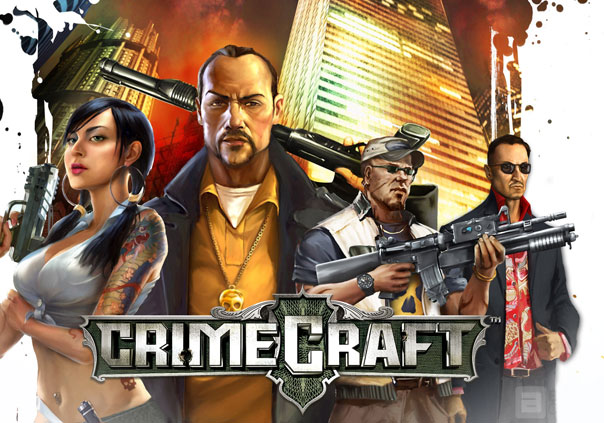 CrimeCraft was originally released as a retail, subscription based MMOFPS  but has since relaunched as largely a free to play game with a cash shop. A large, persistent city acts as the game's lobby where players can form gangs, accept missions, buy new weapons and more. The actual gameplay elements of CrimeCraft are similar to many other MMO shooters available with some of the major differences being the third person camera angle and the inability to jump. CrimeCraft uses the Unreal 3 engine which help the game stand out in the free to play arena. The game currently supports 7+ game modes which are:
Turf War – Two teams battle for control of five strategic locations. The first team to control all five points or the team to control the most when time runs out is the winner.
Snatch N' Grab – A capture the flag game mode involving two teams.
Robbery – Each team starts with a safe containing 100k in cash. Players must steal money from the opposing team's safe and bring it back to their own. The team with the most cash at the end of the round wins.
Shootout – Team deathmatch. Two teams compete to score the most kills in the allotted time.
Riot – Deathmatch or FFA mode. The player with the most points at the end of the round is declared the winner.
Safegaurd – A PvE mode that pits a group of players against a wave of AI controlled rogues. Players must protect a weapons cache until the timer runs out.
Stockpile – A PvE mode where players must recover supplies held by AI rogues. While players cannot hurt each other in this mode, they do not share the loot the accumulate.

Status: Released
Release Date: Aug 25, 2009
Business Model: Free to Play
Developer: Vogster Entertainment
Publisher: Mayn Games
Category:

Stand-alone

Genre(s):

3D, MMO, Shooter, Simulation

Platforms:

PC


Editor's Score: 4/5

Pros:

+Amazing graphics.
+20 maps, 10 game modes.
+PvE missions provide single player content.

Cons:

-Somewhat awkward controls.
-RPG elements have no depth.
-Plays almost identically to a lobby based shooter.



Recommended System Requirements:

OS: Windows XP / Vista
CPU: Intel Dual Core
RAM: 2 GB or more
GPU: GeForce 8800 or better
HDD: 5.5 GB or more



Description: CrimeCraft is a 3D third-person shooter with MMORPG elements. In a not so distant future, the world lies in anarchy with gangs having replaced governments. Players are forced to join up with a street gang for mutual protection and to earn a living.
"Herofall" contains 275 additional cards, including 18 legendaries, and adds new mechanics which embellish and expand on the game.
by MissyS
Turbine has announced that Dungeon and Dragons Online (DDO) has re-opened its yearly Mabar Endless Night Festival.
by MissyS