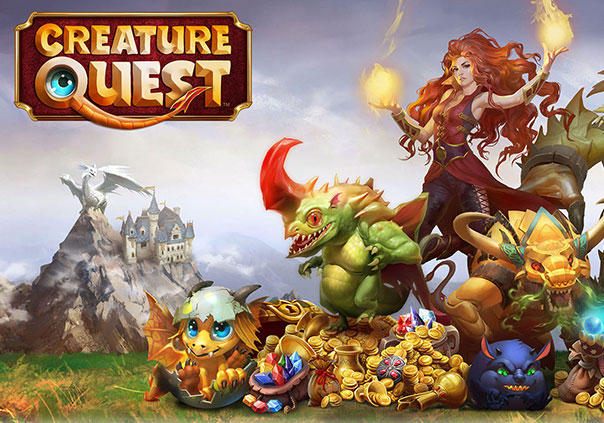 Creature Quest is a free-to-play mobile fantasy strategy game developed by VC Mobile Entertainment for iOS and Android. In Creature Quest players can manage their very own team of unique creatures, using them to explore the world and engage other monsters in battles.
Whether you're a fan of the cute and cuddly or the intimidating Creature Quest has a monster for you. Everything from fearsome, fiery dragons to mage kittens and lumberjack clad woodpeckers can be collected and put into your team composition. In the beginning you'll start off with a team of 5 creatures, but on your adventures you'll encounter and collect hundreds of new creatures along the way. Your creatures can even be upgraded and evolved into stronger forms that will have new weapons, abilities, and spells to take down your opponents with!
Creature questers that are feeling exceptionally fiery can join up with a Guild and exchange helpful tips and tricks with their fellow guild members. Fighting with your guild mates will also net you some unique PvP rewards that can't be acquired anywhere else, so be sure to participate whenever you get the chance!
Combat in Creature Quest is turn-based and fast-paced. Players will swipe across the screen to battle quickly, or they can choose to optimize their strategy to each individual battle. The depth of strategy that you want to use is entirely up to you, so you get to make the choice between ease and complete control! Creatures also have their own elemental affiliation, so deciding what creatures to use how and keeping all of their combinations in mind will be key in securing victory. If you can manage to master the combo system, then no other creature questers will be able to stand in your way!
Collect your own monster team, lead them into battle, and unleash powerful combos upon your foes to prove once and for all you are the best creature quester!
Status: Released
Release Date: Jan 25, 2017
Business Model: Free to Play
Developer: VC Mobile Entertainment
Publisher: VC Mobile Entertainment
Category: Mobile
Genre(s): 2D, Fantasy, Strategy
Platforms: iOS, Android

Pros:

+Tons of different creatures.
+Many different things to do.
+Great team variations.

Cons:

-Turns into a grindfest quickly.
-Taxing energy system.



Recommended System Requirements:

OS: iOS 8.0 / Android 4.1 or later
HDD: 635 MB