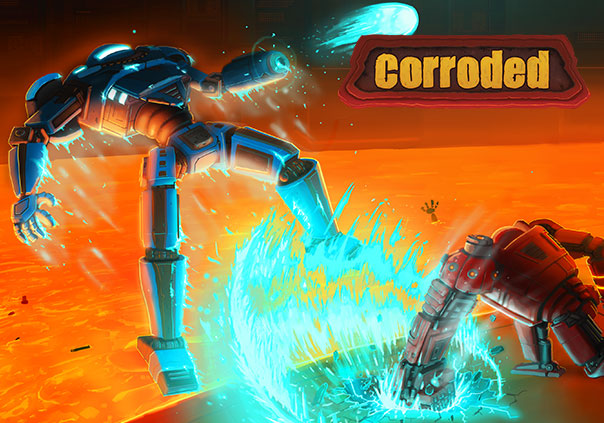 Corroded is a free-to-play 3D MOBA developed by Encircle Games for PC and is available for download on Steam Early Access. It was originally inspired by the Warlocks mod from Warcraft 3, but gives the concept a fresh, new take with a greater focus on speed. Corroded is set in a distant future where robots will battle in shrinking arenas, trying to knock each other out of them. Who is going to control them, you might ask? Well none other than yourself!
Battles are an intense free-for-all experience that focus on both speed and using a compact skill system in the best ways you can think of. Each game will consist of short rounds and between each round you will be able to spend the credits you've earned in battle. By purchasing new abilities and upgrades you'll grow even stronger as the match progresses and there are hundreds of ability combinations for you to master. After all of the rounds have been played the game is finished and the winner gets crowned!
There are 3 different classes of robots to choose from in Corroded: Assault, Close Quarters, and Specialist. Each class has its own unique ability set-up to fit different playstyles. Skins can also be collected for each robot to really make them pop and set you apart from the rest of the battlers.
Learning the game levels will also be crucial to your success. Each one will have a different layout with different mechanics, forcing you to adapt your strategies as you play. Some will have small bridges that you may dare to traverse to reach a larger area, whereas others might be composed of mostly large areas with objects for you to hide behind. You'll have to decide where the best positioning is for you and how you want to approach the battle.
Counter your enemies, adapt to your surroundings, and become the champion of the arena in Corroded!
Status: Pre-Release
Business Model: Free to Play
Developer: Encircle Games
Publisher: Encircle Games
Category:

Stand-alone

Genre(s):

3D, MOBA

Platforms:

PC, Steam



Recommended System Requirements:

OS: Windows 7 64-bit (or later)
CPU: Current Generation Quad Core
RAM: 6 GB
GPU: Nvidia GTX 600 or 700 Series, AMD R9 or HD7900 Series
HDD: 3 GB



Description: Corroded is a free-to-play 3D MOBA where players can choose a robot to take into battle and try to shove opponents out of an arena. The catch is that these robots are loaded out with powerful abilities and the arena is shrinking!
EverQuest II: Extended officially launches. The beta servers launched on August 19, 2010 and players can begin experiencing EQ2 for free.
by Guest
Dota 2 aims to provide a better user experience than that found in Warcraft III Dota due to engine limitations.
by Abubakr