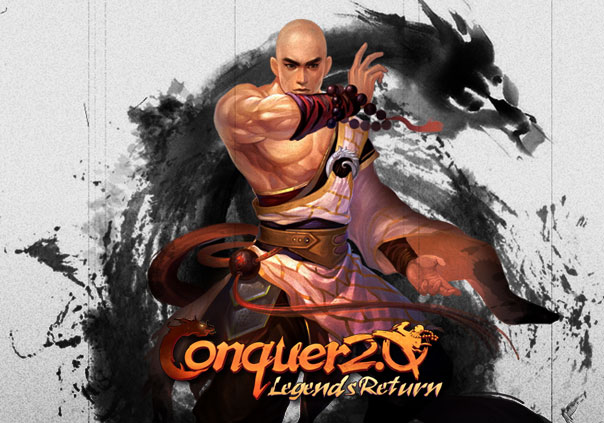 Conquer Online, set in the world of ancient China, is a free-to-play 2.5D MMORPG. Within the beautiful and opulent world of oriental fantasy, you will take control of a strong and gallant hero, slaying frightful monsters, completing dangerous quests with your friends, and having the most fun of your life! The game made its debut back in 2003, and with fun gameplay, multiple PvP events, and unique classes and skills, the game has attracted more than 10 million registered users around the world.
Conquer Online is certainly TQ Digital's most popular game, as the game has well over 60 servers, and some of the servers are so full that players can't even log into them at times. The game originally debuted in China back in 2003 and currently has more than 10 million registered players world-wide. Visually speaking, Conquer Online looks a lot like TQ Digital's other games (Zero Online, Eudemons Online, The Warlords, and Crazy Tao). Even though the graphics aren't top notch, practically any PC can run the game smoothly. In terms of class variety, Conquer Online has a lot more to offer than other games by the same publisher, as other games from TQ Digital usually have two or three playable classes, Conquer Online has six, and they are:
Ninja – Ninjas are the fastest and hardest hitting class in Conquer Online. They can deal massive amounts of damage in a short amount of time, but they have the least hit points and defense of any class.
Archer/Assassin – Archers are swift characters that can attack enemies from a distance using their bows. They have powerful attacks but are vulnerable in melee range. Their skills allow them to hit multiple targets as well, which make them very capable at dealing damage. Assassins have a unique combat style and transformation ability. When throwing knives are equipped, Archers will become Assassins and then they can launch a fast and deadly attack on a target from a distance, killing them before they even know what happened.
Pirate- Pirates are coming on their ships; rapiers and pistols are their weapons. Enemies will drop more items if killed by them, and vise versa. However, they will receive half PK points only.
Trojan- Trojans are all out melee damage dealers. They can deal massive amounts of damage with their dual weapons, but they have low defense compared to warriors.
Warrior – Warriors are similar to Trojan's but are more balanced in terms of attack power and defense. They are very capable of both dealing and absorbing damage.
Taoist – Taoists are the primary spell casters in Conquer Online. They can be built to be either supportive 'Water Taoists' or offensive 'Fire Taoists'. They generally have low hit points and melee combat, but more than make up for that with their powerful magic.
Monk – Monks are a mix between warriors and Taoists as they can hold their own in front line battles as well as support their party members with some spiritual magic (Buffs/ Supportive magic)
The Oriental Assassin – Unlike western assassins, who have to come close to their target to finish their target, the eastern assassin from Conquer Online is very unique in their ability to kill at a distance. They attack by throwing deadly daggers from afar, killing their enemies before they know what happened. The Oriental Assassins are the empire's best kept secret, and have been disguising themselves as simple archers among the common folk for years, hunting down the empire's rebellions like Ninjas, Monks, Trojans….
Features:
A Beautiful Game World: Conquer Online has a visual style that resembles the traditional Chinese hand-painted artwork.
Fun Gameplay, Fast Paced Leveling, and Combat: Conquer Online is easy to learn and full of wonderful content to explore. The game's combat is fast paced and fluid, skills and spells look impressive, and players can jump instead of walking.
Large & Friendly Player Community: Players can form a guild, clan, and even a family in the game. There are also many social actions available, as well as a thriving forum community.
In-depth Customization Options: The game offers an abundant choice of beautiful garments, hairstyles, mount armor, and even weapon accessories.
Multiple PVP Events: The game offers many different types of PvP tournaments and events, like the Guild War, Class PK tournament, Team PK tournament, Faction Wars and more.
Unique Rebirth System: Once your reach your limits in your first life, you have the chance to be reborn, giving you new powers and abilities.
Status: Released
Release Date: Jan 17, 2004
Business Model: Free to Play
Developer: NetDragon Websoft
Publisher: TQ Digital
Category:

Stand-alone, Mobile

Genre(s):

2D, MMO, RPG, Fantasy

Platforms:

PC, Mac, iOS


Editor's Score: 3/5

Pros:

+ Varied PvP options
+ Fair selection of classes and job advancements
+ Unique rebirth feature

Cons:

- Dated graphics
- In-game bot
- Cash shop advantage
- Poorly designed interface



Recommended System Requirements:

OS: Windows XP and up Mac or iOS
CPU: 1.5 GHz Pentium 4 or equivalent AMD Processor
RAM: 256 MB
GPU: Any DirectX 8.1 or higher compliant VGA Card
HDD: 1.0 GB Free



Description: Conquer Online is a PvP focused 2D Fantasy MMORPG. The game is very similar in terms of core gameplay to other games by the same publisher, but has some of its own unique aspects. Gameplay is fast paced and the number of job advancements are plentiful, so it shouldn't be too hard for C
JC Planet has recently announced that they will be hosting the classic 3D MMORPG: Seal Online, with a brand new server and new events for play...
by Mikedot
WEBZEN, a global leader in next-generation free-to-play games, is delighted to announce that the PvP-focused MMORPG Archlord 2 released its fi...
by Mikedot
Stunlock Studios announced today that their anticipated Battle Royale for Battlerite, Battlerite Royale will be launching as its own game.
by Ragachak