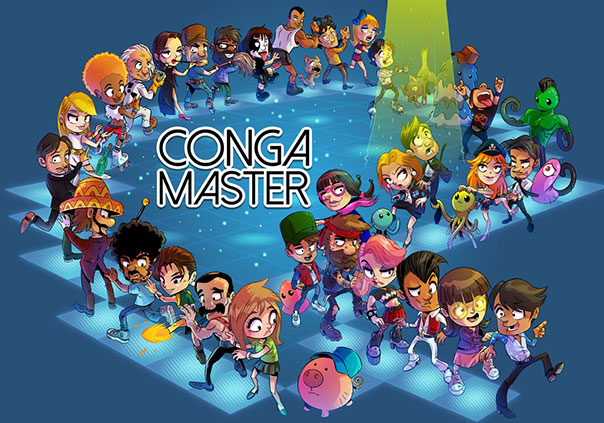 Conga Master is a buy-to-play game developed by Undercoders for PC, Mac, Linux, and is available on Steam for purchase. In Conga Masters you will have to shake your virtual hips in every way possible to get your conga line to grow in size.
Across multiple levels and maps you'll add people to your conga line by dancing past them, and the more people you add to your conga line the faster the entire line will start to move, but make sure to watch out for any pigs along the way. If you're feeling especially crazy you can invite three of your friends to play alongside you, adding to the conga madness as you all compete to try and get the longest conga line in the world!
Afraid that you've got no rhythm? Well that is no problem in Conga Master either! With an easy control scheme requiring that you use only two buttons you'll find yourself on the path to becoming a conga master in no time! Plus there are over 30 characters to play as and seven different conga clubs to unlock, so you'll have more than enough places and people to practice your hip-shaking skills with.
If you're a bit too shy though and prefer to conga by yourself, then fear not either! Story Mode will give you the chance to become the King of the city's nightclubs on your own. Every club will have powerups for you to snag to help you along the way, and even a few hidden secrets to expose as well.
So whether or not you're shy or outgoing, Conga Master has a place for you to wiggle your hips and get others to join in on the fun. Convince other dancers to conga with you and show that no matter your social preference, you've got what it takes to become a true Conga Master!
Status: Released
Release Date: Sep 14, 2016
Business Model: Retail
Developer: Undercoders
Publisher: Rising Star Games
Category:

Stand-alone

Genre(s):

2D

Platforms:

PC, Mac, Linux, Steam



Recommended System Requirements:

OS: Windows 8 / OS X 10.7 / Ubuntu 12.04 LTS (or later)
CPU: 1.6 GHz or faster processor
RAM: 1 GB
GPU: Shader Model 2.0 compatible card
HDD: 250 MB



Description: Conga Master is a buy-to-play pixel game where you will have to shake your virtual hips in every way possible to get your conga line to grow in size and prove to everyone that you can start the longest conga line the world has ever seen!
The basis of Need for Speed is street racing and police pursuit. Players work towards becoming the best street racer by participating in event
by Abubakr
With this premier update, Gunship Battle: Total Warfare goes beyond the exclusive story to steep players in G.I. JOE-themed events and rewards
by MissyS
With more than two years of development and testing by 10,000 gamers, ZergID, a social network for MMORPG players, is entering public beta.
by Mikedot