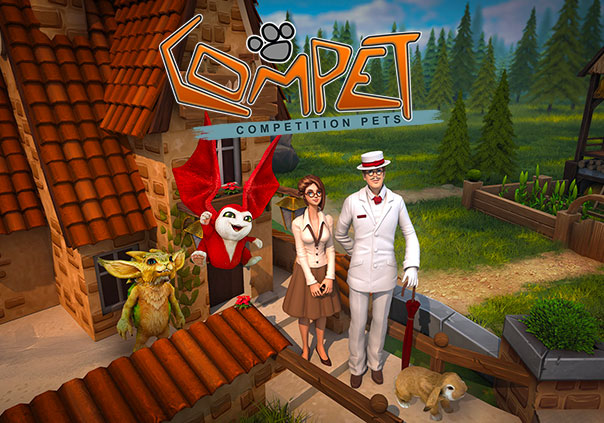 Compet is a free-to-play 3D fantasy strategy game developed by MindArk PE AB for Android, PC, and is expected to have an iOS release in the future. In Compet players can become a noble that raises and battles their pets with the intentions of acquiring wealthy and glory!
The relationship of Pet and Master goes hand-in-hand. Your pets will have all of the necessary abilities to take down your opponents, but they will never achieve their true potential without your guiding hand. Train your pets well so they can raid your enemies and defend your village with everything that they've got in them!
Battling will also help you gain precious experience points that can level-up your pets and help them gain strength. Battles take place in turn-based battles where you will have to strategically determine the best move for your pet, otherwise you might find yourself with a loss instead of a victory. Pets can gain even more combat options if you take the time to unlock the secrets of the Library and gain new abilities!
Pets can come in all shapes and sizes, meaning that they will have different combat focuses. There are 4 different types of pets that you can have: Aggressive, Defensive, Attuned or Balanced. Each of these types has something different to offer your potential strategies, so be sure to find the right pets to suit your master plans.
Whether you're battling it out in the PvP Arena or trying to convert your tiny village into a massive town, don't forget who is making it all possible – your pets! Teach them well and lead them with a Master's proficiency to see how strong they can get. Who knows how far you can go with a great team of pets by your side!
Status: Pre-Release
Release Date: Nov 29, 2016
Business Model: Free to Play
Developer: MindArk PE AB
Publisher: MindArk PE AB
Category:

Stand-alone, Mobile

Genre(s):

3D, Fantasy, Strategy

Platforms:

PC, Steam, Android


Pros:

+Cute, appealing art style.
+Satisfying amount of strategy in battles.
+Having friends in-game makes it more fun.

Cons:

-Pay-wall and pay-to-win mechanics.
-Gets very grind-oriented.



Recommended System Requirements:

OS: Windows 7/8/10 64-bit
CPU: Intel Core i5-750 / AMD Phenom II X4 965
RAM: 2 GB
GPU: nVidia® GTX 560 / AMD 6950 or better
HDD: 2 GB



Description: Compet is a free-to-play 3D fantasy strategy game where players can raise all sorts of crazy pets and take them into battles against other players. Who knows how far you can go with a great team of pets by your side and the ambition of a true Master!
Arena of Valor has all the strappings of what you can expect in a MOBA game.
by Ojogo