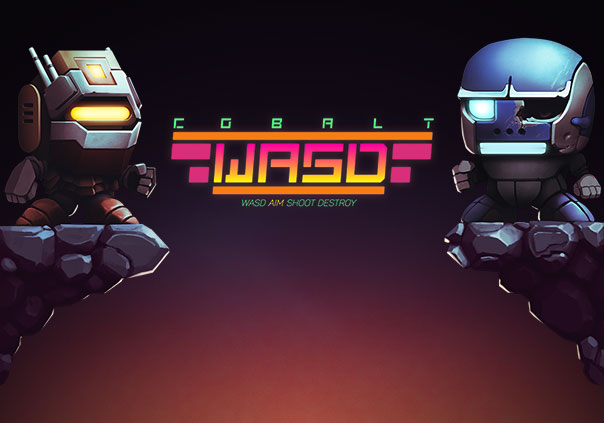 Cobalt WASD is a 2D platforming MOBA developed by Oxeye Game Studio and is available for purchase on Steam. In Cobalt WASD players can play as adorable murder-bots running, jumping, and gunning their way through bomb-defusal based matches.
Two teams of murder-bots will battle it out over a series of rounds, using everything at their disposal to defend their base or plant the bomb at the opposing team's base. This means using stealth suits to sneak your way past enemy lines, diving straight into the line of fire with your reflector shield at the ready, using teleporter guns to jump your way across the battlefield and many more options. Just remember to aim for the head, eye, or back if you want to get bonus damage and really put your enemies on edge with your accuracy!
Teamwork can mean the difference between victory and defeat in Cobalt WASD. Synchronize attacks and positioning with your team to overwhelm your enemies. You'll need teammates that are distracting enemies, healing your allies, and trying to sneak their way around to the enemy base or to initiate a surprise attack to come out on top.
Your match will begin at the shop where you can buy weapons, armor, and vehicles to use during rounds. Your round will then begin and the first side to either kill the enemy team or explode the bomb in the enemy's base wins, then back to the shop you go! You can then purchase bigger and badder equipment before going back into your next match. Earn cash to spend in the shop by killing during rounds, and if you win you can keep your current loadout to use following round.
Cobalt WASD brings an intense take on the 2D platformer genre. Deck yourself out with all kinds of weapons and battle it out in bomb-planting games.
Status: Released
Release Date: Nov 30, 2017
Business Model: Retail
Developer: Oxeye Game Studio
Publisher: Mojang
Category:

Stand-alone

Genre(s):

2D, MOBA, Sci-Fi, Shooter

Platforms:

PC, Steam


Pros:

+Balanced gameplay
+Great variety of weapons
+Fair price for content offered

Cons:

-Only one game mode
-Dedicated developers



Recommended System Requirements:

OS: Windows 10
CPU: 1.5 GHz or faster
RAM: 2 GB
GPU: 1GB VRAM
HDD: 2 GB



Description: Cobalt WASD is a 2D platforming MOBA where players can play as adorable murder-bots running, jumping, and gunning their way through bomb-defusal based matches. Deck yourself out between rounds with the cash you earn and bring your new loadout to the battlefield!
Aelius is a melee brawler who is part of The Faceless kingdom, a cruel and decadent empire built on slavery and staggering military strength.
by MissyS