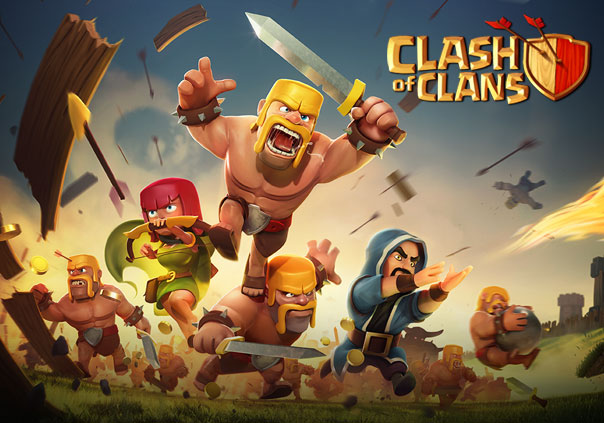 Clash of Clans by Supercell brings strategic base raiding RTS action to Facebook and mobile devices. With real progression, fantastic graphics, and competitive clans and leagues, Clash of Clans changes the way we are looking at mobile gaming. Kill time by conducting a few raids or really sink your teeth in by competing in leagues. Download Clash of Clans today, try your hand at managing your own viking base, and show all the other clan leaders who the best really is!
Features:
►Build your base, gather resources, and carefully plan your army as you prepare to tackle foes in an intense single player campaign or raid rival players' bases to speed up your resource acquisition. Space is limited and expansions are expensive. Determine what you need most and choose carefully how much real estate you utilize on barracks, walls, defenses, and supplies.
►Clash of Clans takes a humorous approach to a mix of fantasy and Viking inspired units. The units you choose from are very diverse. With varying strengths, defenses, damage, and target priority, building the right force for each base takes real strategy.
►Join a clan and utilize shared units to defend your base while offline. Climb the league ranks by acquiring trophies from PvP base raiding to become a world champion. Make sure to take advantage of the battle recap system too so you can see how your base is holding up and make modifications for future attacks.
Expansions:
Supercell is devoted to keeping Clash of Clans balanced, relevant, and fun! As such they're nearly constantly updating to keep the game fresh! If you'd like to see a full version history you can check their wiki here.
Microtransactions
Players may purchase gems in game which allow them to expedite production of units and buildings. Certain buildings or troops may also require gems to build. Gems can be earned through gameplay via the achievement system.
Status: Released
Release Date: Aug 02, 2012
Business Model: Free to Play
Developer: Supercell
Publisher: Supercell
Category:

Mobile

Genre(s):

2D, MMO, Fantasy, Strategy, Idle Gaming

Platforms:

iOS, Android


Editor's Score: 5/5

Pros:

+Easy to learn.
+Paywall is not felt, even at end-game.
+Protection wall protects from attack spam.

Cons:

-PvE missions are actually so challenging they may turn off casual players.
-Action is small and may be hard to follow on smaller devices.





Description: Build your base, ally your clan, and prepare to raid for resources in a colorful and fun fantasy strategy world where glory is all that matters. Clans will clash in Clash of Clans.
Streaming Partner Artzi showcases Soldier Front 2, Gives out Early Access
by DizzyPW
The Heroes of Newerth team today announced that beginning July 26, Newerth will kick-off its biggest eSports event of the year, Hontour: Seaso...
by Mikedot
A few weeks back, I got a chance to see the changes coming to ArcheAge for update 4.5, and there's some really big stuff on the way!
by Ragachak