*Note: This game has been cancelled or shut down and isn't available for play.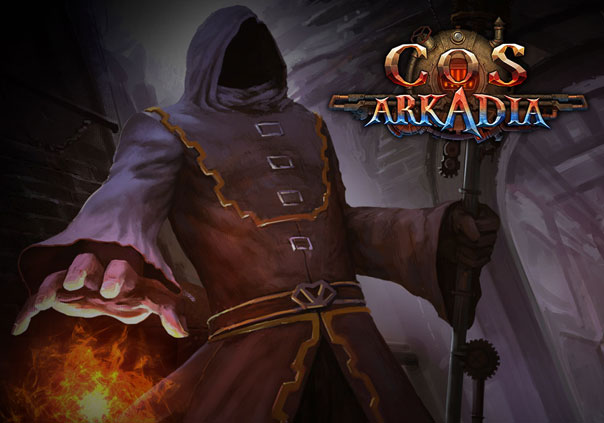 City of Steam, by Mechanist Games, offers a hack-and-slash style adventure in your web browser. The game features four classes and ten races to choose from. Set in a post-apocalyptic era, City of Steam will engage players with an amazing story featuring several factions, zones, quests, and monsters.
Classes –
Arcanist – Armed with state-of-the-art aetheric manipulators, the arcanist wields the fury of the elements against any enemies foolish enough to approach. A variety of Fire, Ice, and Lightning abilities provide them with a wide array of tactical options.
Gunner – Much of the Appeal of the New Epoch's new generation of firearms is that anyone, given time and training, can use one. Gunners, however, prove that unlocking the true potential of these weapons can't be so easily taught. Whether they stalk individual targets with the art of sharpshooting, conjure occult effects with Trigger Magic, or utilize the varied abilities of Support Fire, Gunners are indispensable ranged combatants.
Warder – Heirs to a millennia-old martial tradition, Warders are the first line of defense against the enemies of those they serve. Whether they stand against inhuman beasts or petty thieves, Warders meet their opponents with righteous fury. Although Warders tend to favor one of many regional traditions, they are united in a common focus on personal Duty, unflinching Leadership, and swift, punishing Judgment of enemies.
Channeler – Whether they draw from ancient Church hymnals or perform their own compositions, Channelers' powerful melodies move the Mechanism to bring their allies into martial Harmony, restore them with Faith, and punish the unworthy with blinding Radiance.
Races –
Heartlanders – Humans of the Heartland City-States are called Heartlanders. A pragmatic and cosmopolitan people, Heartlanders hail from a loose confederation of industrial lands: Delton, Hollow, Locke, Nexus, Torch, and Wroughton.
Avens – Humans hailing from the Republic of Avenoss are known as Avens. They are well-educated, responsible folk from a strict patriarchal society renowned for its arcane engineering.
Ostenians – Humans born in the Holy Kingdom of [Holy_Kingdom_of_Ostenia|Ostenia] are referred to as Ostenians. They are a romantic, religious people whose culture is increasingly torn between King and Church.
Stoigmari – Humans from the Empire of Stoigmar are referred to as Stoigmari. people. A hard people for a hard land, Stoigmari are renowned for their work ethic, martial traditions, and strong liquor.
Draug – Ashen-skinned, cautious, and withdrawn, the draug jealously guard the dwindling wealth and influence of their noble Houses. Though very long-lived, they prefer the comfort of their ancient manors – decrepit though they might be – to the chaos of urban life.
Riven – Passionate, beautiful, and short-lived, the stylish riven are natural celebrities. These charismatic nobles seek fame and fortune in battle, government, and high society for the greater glory of their ancient Houses.
Goblins – The smallest, quickest and most cunning of greenskins are goblins. Goblins are known for two things: their irrepressible curiosity, and their knack for using that curiosity to get into serious trouble.
Hobbes – Hobbes are a gruff, disciplined people with a strong martial tradition. Regardless of their chosen field, hobbes are known for their strength and endurance.
Orcs – The largest, strongest, and most intimidating of the greenskins are orcs. Driven to the margins of society by harsh public policy, many orcs turn to adventuring as a matter of survival. Given half a chance, though, they can excel in any role.
Dwarves – Dwarves were created long ago by the Paragons to help build their empire. They are half-organic, half-mechanical. They're not born, but manufactured in batches of up to 6 in underground facilities called forges, of which only about 12 remain.

Status: Shut Down
Release Date: Dec 04, 2013
Business Model: Free to Play
Developer: Mechanist Games
Publisher: Mechanist Games
Category:

Browser

Genre(s):

3D, Adventure, Fantasy, Sci-Fi

Platforms:

PC, Mac


Pros:

+Detailed background story.
+Huge open world.
+Lots of races and classes to choose.
+Easy for beginners.

Cons:

-Repetitive gameplay.
-Generic feeling.



Recommended System Requirements:

CPU: Pentium 4 2.8 GHz or equivalent
RAM: 2 GB DDR 2
GPU: nVidia 6800GT, ATI X800 XL or equivalent.



Description: City of Steam, by Mechanist Games, offers a hack-and-slash style adventure in your web browser. The game features four classes and ten races to choose from.
Ornn, the Fire Below the Mountain, is the latest champion release from League of Legends and is by far the raddest ram around.
by Kings Decree
Webzen has just released the fourth expansion for their dungeon-based MORPG, Continent of the Ninth Seal (C9). Starting today, the Guardian'...
by Mikedot
Recently, City State Entertainment imitated a pre-alpha test for there upcoming MMORPG: Camelot Unchained, and today, they revealed the result...
by Mikedot