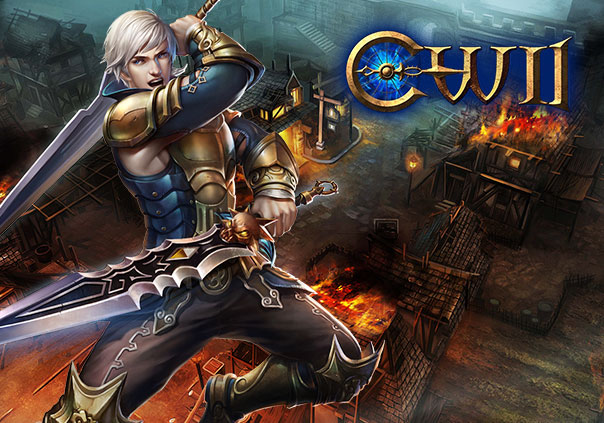 Chrono Wars 2 is a free-to-play browser fantasy MMORPG developed by Narvalous. In Chrono Wars 2 the evil Phantom Army from another dimension invaded the world to try and steal what keeps the world going, Chrono Energy. You have been called upon to become a Guardian of Chronos and keep the Phantom Army from acquiring Chrono Energy.
Players will find themselves beginning their quest and various distorted historical eras where they will fight alongside some of the most legendary heroes of all time like Robin Hood, Jeanne D'Arc, Emperor Li Shimin, The Great Caesar, and even King Arthur himself! It will become your job to unite all living creatures and summon their power to battle through glorious PVE, PVP, legion, and boss battles. During the time travels, you will uncover and collect historical relics, such as King Arthur's crown, Robin Hood's bow, and Merlin's wand – all of which will add to your power so you can better defend time, order, and Chrono Energy.
Characters can be outfitted with all sorts of impressive looking equipment and armors from glowing swords to magnificent wings. Even mounts can be used to not only travel faster, but do so in style. Insane loot and even more insane styles are ready to be experienced! Chrono Wars even has a feature to allow players to immediately boost to level 100. What more could you ask for when you're defending time itself? The more strength you have the better off you are!
Will you be able to stop the Phantom Army from taking the world's supply of Chrono Energy? Maybe you already have since you're here right now in this place and time. Become a Guardian of Chronos and find out for yourself!
Status: Released
Business Model: Free to Play
Developer: Narvalous
Publisher: Narvalous
Category:

Browser

Genre(s):

3D, MMO, RPG, Fantasy

Platforms:

PC, Mac, Linux


Pros:

+Great graphics for a browser game.
+Interesting plot.
+Easy to access.

Cons:

-Stamina system.
-Lacks depth.



Internet browser required.


Description: Chrono Wars 2 is a free-to-play browser fantasy MMORPG where players can fight to defend Chrono Energy from a Phantom Army from the 5th dimension. What could be more exciting than fighting alongside fabled heroes like Robin Hood, Jeanne D'Arc, and Emperor Li Shimin?
Wargaming today announced details for Update 8.6 for World of Tanks. The new update will bring further changes and balance to the in-game econ...
by MissyS
Check out two new videos dramatizing the marriage process in MapleStory.
by MissyS
KingsGroup has announced that their latest mobile title, Dino War has entered pre-registration.
by Ragachak