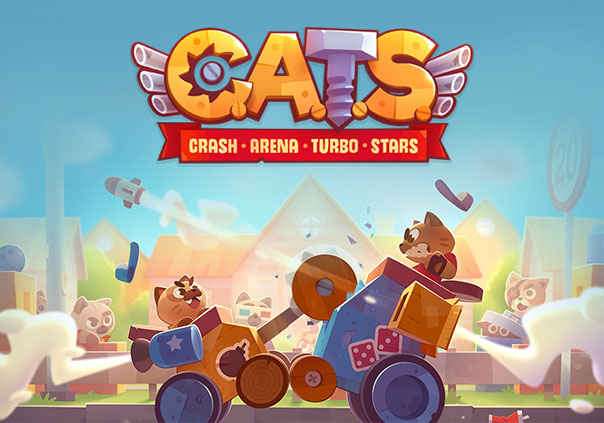 CATS is a free-to-play casual mobile game developed by ZeptoLab for iOS and Android where players can build a war machine piloted by cats. The felines may be cute, but your deadly war machines certainly aren't!
Remember that cats aren't all cute and cuddly. Cat fights have been given a name for a reason and this mobile game proves that name worthy! Battles take place on a two-dimensional, single-plane battlefield where your war machine will automatically be driven towards your opponent's and vice versa, blasting, banging, and sawing away at each other. The first one to reduce the other's health to zero wins! However, beware if the battle goes on for too long the arena walls will close in and destroy the first war machine they come into contact with, leaving the undestroyed player with a win!
In CATS you can become a complete engineering master where managing your war machine's energy is key. The more energy it can generate, the more parts you can put on it and the stronger it can become. Some parts will cost more energy than others, so you'll need to decide what is necessary to have and where it should be placed on the vehicle. Would you rather have rockets blasting at your enemies from a distance than ramming them with buzzsaws and drills up close? You can make that happen!
Don't think you'll just be playing for the fun of blowing things up either, no matter how much fun that actually is! After so many wins you'll earn a crate that can be opened over time to acquire even better parts to build your war machine with. You can also enter the World Championship where you can take on numerous opponents and climb through the rankings.
Build your own war machine to fight for glory and exercise your right of sweet destruction as a cute feline in CATS!
Status: Released
Release Date: Apr 19, 2017
Business Model: Free to Play
Developer: ZeptoLab
Publisher: ZeptoLab
Category: Mobile
Genre(s): 2D, Casual
Platforms: iOS, Android

Pros:

+Wacky, fun concept.
+Lots of options to build with.
+Different strategies pay off.

Cons:

-Timers to open crates are long.
-Can't have multiple vehicle profiles saved.
-Needs more social systems.



Recommended System Requirements:

OS: iOS 8.0 / Android 4.1
HDD: 125 MB