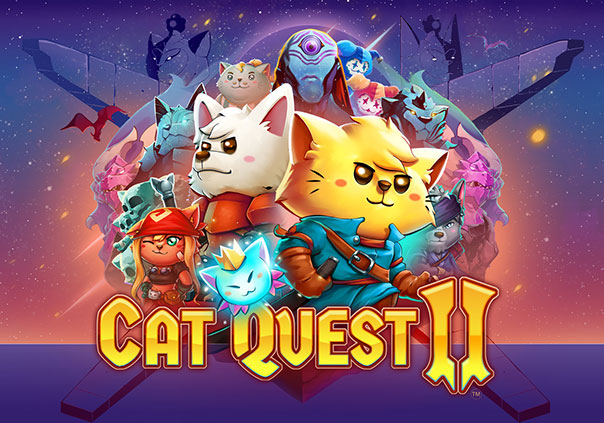 Cat Quest 2 is a beautiful, open-world adventure where you and a friend can team-up locally as a cat or a dog. An unforgettable adventure in the world of Cat Quest awaits!
Story: A pair of kings is seeking to reclaim their thrones. War is looming between the Lupus Empire and Felingard, and tensions are rising. It's up to this cat and dog to travel, explore, and work together to ultimately on a journey of discovery. This is a return to the land of  Felingard originally seen in Cat Quest. These two kings are brought together against their will, but they must work together if they both want to see peace in their time.
Features:
► Cat Quest Expanded: New weapons and spells are awaiting our furry pals in the world of Cat Quest II. There are also new passive abilities, which can be mixed and matched to play however you like. Your Cats and Dogs can be whatever mighty adventurer you want them to be.
► Familiar, But New: Cat Quest continues with Cat Quest II, with a new adventure in Felingard. But Felingard is only part of the world! You can also venture into the dangerous Lupus Empire. It's a bright, colorful world with adorable characters and plenty of puns for sure.
► Adorable but Compelling: While cute and cuddly on the outside, Cat Quest II tells the story of a pair of kings brought together against their will. It's an unlikely partnership, but the story told will warm hearts. Cat Quest II will keep people coming back for more adventures in Felingard and beyond.
Microtransactions: None
One of the things I tend to harp on is how unnecessary it is to "Reinvent the Wheel". If something is still fun, why change it?
by Ragachak
Camex Games has announced today that a new Valentine's Day update is here for the mobile and PC version of their game, Tactical Monsters.
by Ragachak
GameFuse, a leading publisher of free-to-play online games, is pleased to announce Kings and Legends Global; a highly addictive, competitive c...
by MissyS