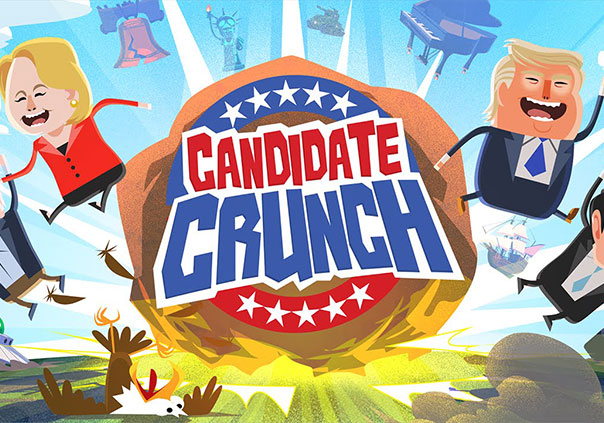 Candidate Crunch is a free to play mobile game developed by Urthworx for iOS and Android where players try to help their choice in candidate survive the campaign trail!
In Candidate Crunch you can choose your preferred candidates for the 2016 election and help stop falling objects from hitting their heads, or not. Really the choice is up to you! On the exciting road to The White House that spans every state in the country, players will also be able to unlock some entertaining customized characters like Goth Hillary, SuperTrump, Headbanger Bernie and more! There will even be some other special surprises for you along the way like collectible cards that can be shared with your friends. Don't think that just the candidates who haven't dropped out of the race are the only ones you can choose to help either. Ted Cruz, Marco Rubio, Ben Carson, Jeb Bush, John Kasich and more will be more than willing to accept a helping hand as well. Candidate Crunch even features trivia that will allow you to test your and your friends' political knowledge to see who is the most learned candidate assistant.
Yet, one of the most useful features of the app is its Election Central portion that has emerged from teaming up with Rock the Vote. In Election Central players can find links to information on how they can register for the upcoming election, as well as links for online registration. Election Central will even be able to guide you on how to vote and what things you might need to bring on the big day!
Status: Released
Release Date: Jun 01, 2016
Business Model: Free to Play
Developer: Urthworx
Publisher: Game Alliance
Category: Mobile
Genre(s): 2D, Casual
Platforms: iOS, Android

Pros:

+Election Central provides useful voting information.
+Encourages supporters to go out and vote.
+Political knowledge can be tested and affirmed.

Cons:

-Glitchy invisible objects at times.
-Very repetitive gameplay.



Recommended System Requirements:

OS: Android 2.3.3+, iOS 6.0+
HDD: 92.6 MB