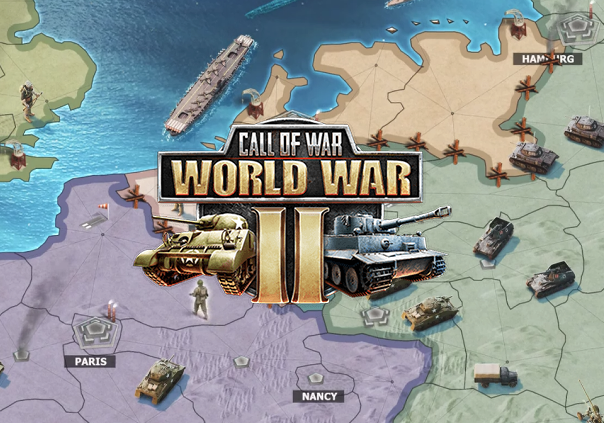 Call of War – World War 2
Call of War, also known as Call of War – World War 2, is a free-to-play browser-based multiplayer strategy game developed by Bytro Labs where players can command forces and fight in battles of World War II. In Call of War it is the year 1942 and the world is full of conflict. The most powerful nations in the world are warring with each other and need a leader, which is where you come in!
Experience the year of 1942 like never before by becoming the leader of one of these massive nations and leading it to militaristic triumph. You will need to do everything from conquering provinces to advancing technology and creating new weapons that will help you expand your hold even more. However, remember there are more ways to expand than just one. Becoming a powerful force yourself can influence others into aligning with you. After all, who wouldn't want to be on your side when you've become so much more advanced and strong? You are also able to forge your own alliances with others, so pick and choose carefully who you think will be of the most benefit to your cause.
Research will play an important role in your domination. There are over 120 different units you can acquire through research that can be used in so many different ways. Whether you want infantry, ground vehicles, naval units, or aircraft there is a unit for you to create. There are even some secret research projects like the construction of atomic bombs that can become some of the most integral parts of the war.
Take part in naval warfare, dogfights, ground battles and more all in the name of your country. Military success can come in a variety of ways, but what ways will be best for you? Find out the best way for you to dominate in the year of 1942 in Call of War!
Status: Released
Business Model: Free to Play
Developer: Bytro Labs
Publisher: Bytro Labs
Category:

Stand-alone

Genre(s):

2D, RPG, Strategy

Platforms:

PC, Mac, Linux


Pros:

+Very strategic in nature.
+Tons of management options.
+Realistic research options.

Cons:

-Paid option offers unfair advantage.
-Slow game pace.
-Lackluster visuals.





Description: Call of War, also known as 1942: Call of War, is a free-to-play multiplayer RPG where players can command forces and fight in battles of World War II. Choose the nation that you want to fight for, align with others to gain power, and conquer your foes in the ways you see fit!
Marvel Entertainment, in conjunction with developer PlayNext, has launched the in-game event based on the Necrosha storyline from the comics f...
by MissyS
Maplers who are level 100 and higher starting today have brand new content to explore the Monster Carnival.
by Ragachak
Era of Celestials announced that their game modes will now be cross-server, so players around the world can unite and battle.
by Ragachak