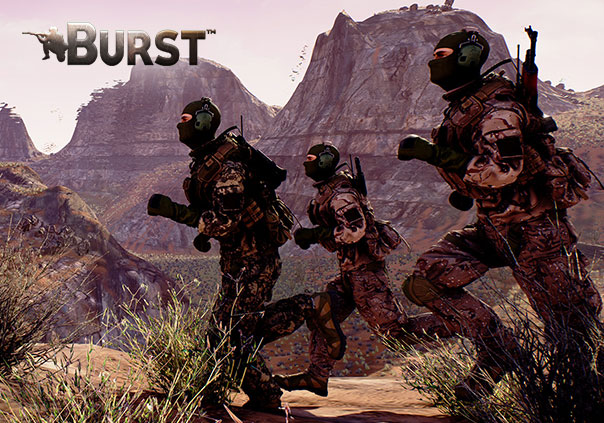 Burst The Game is a free-to-play shooter developed by Brieyla Studios for PC and Linux that is available for download on Steam Early Access. In Burst The Game war has been raging since the BURST terrorist group attacked the government 5 years ago. It all started with an assault on the Internet, then spiraled out of control from there. Most of the important government bodies came under attack soon after and the stock market started to crash with all of the revolutions disrupting it's flow.
The rich began to take power, using their wealth to their advantage in a world striving to make end's meet. Many fled to the safety of the countryside and formed their own groups, fighting amongst each other for the scarce resources they could come across. Freedom came to rest in the individual's hands now.
That's where you come in! You play as a soldier in one of these newly formed groups, fighting for democracy and your very freedom. Bring your friends along as well so you can effectively communicate to employ strategies that your enemies won't see coming.
Your soldier can be outfitted with a variety of different weapons to suit whatever your needs might be. Whether you need an SMG, Sniper Rifle, or Assault Rifle you're going to be able to find a gun to help you out. Grenades and a melee weapon can also be equipped to give you more versatility. Even your weapons can be customized with different skins and sights to get the look and feel that will help you dominate anyone who dares threaten your safety!
An apocalyptic world awaits you in Burst The Game. Will you earn your freedom or die trying to acquire the very thing we all hold dear?
Status: Pre-Release
Release Date: Aug 26, 2017
Business Model: Free to Play
Developer: Lancelot de Briey
Publisher: Brieyla Studios
Category:

Stand-alone

Genre(s):

3D, Shooter

Platforms:

PC, Linux, Steam


Pros:

+Graphics are good.
+Gunplay easy to pick up.

Cons:

-Singleplayer content is lacking.
-Lacks any sort of custom assets.
-Greedy with micro-transactions.



Recommended System Requirements:

OS: Windows 10
CPU: Intel Core i5 3470 @ 3.2 GHz, AMD FX 8120 @ 3.9 GHz
RAM: 8 GB
GPU: GTX 970 | GTX 1060 | AMD Radeon R9 290 or better
HDD: 10 GB



Description: Burst The Game is a free-to-play shooter where players can battle in multiplayer matches in a world after society has collapsed. Will you earn your freedom or die trying to acquire the very thing we all hold dear?
Why has this buy-to-play CCG from Valve gone from 600,000 players to less than one thousand?
by Ragachak
GTArcade is getting ready to celebrate Easter in its MMORPG title, League of Angels. Haven't you always wanted to have your very own Easter ...
by Mikedot
Strife announces a trial weekend for interested players at the end of February, with limited registration.
by MissyS