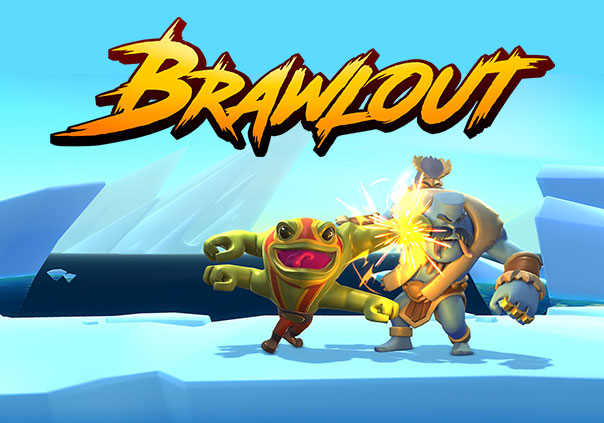 Brawlout
(20 votes, average: 2.9 out of 5)
Brawlout is a competitive 3D MOBA being developed by Angry Mob Games for Xbox One, PS4, and PC that will also be available for download on Steam. Brawlout intends to deliver gameplay similar to that of Super Smash Brothers where skill determines the victor of each battle. By mixing a uniquely gorgeous animation style with the precise gameplay of most intense fighting games, Brawlout will have you battling your friends and other players online for hours on end.
Brawlout can be played in three different modes: online multiplayer, local multiplayer, and solo story mode. Each of your characters will start out with a few basic attacks to use, but as you grow them they'll learn more movement abilities, special attacks, and advanced tech moves that will open up even more combination opportunities for them. Each character you can play as also has their own unique fighting style that makes combat even more interesting. Grappling your opponents, freezing them in place, shooting them with projectiles, and smacking them with long range whips are among a few of the possible fighting styles you can utilize.
Where the game gets even more complex is when you have to manage your rage meter. As you fight your opponent your rage meter will slowly increase, but when you use special attacks your rage meter will be consumed. Knowing when and where to use your rage meter to counter your enemies' moves, or deal even more damage to them in your combo will be key in determining your success.
If you're looking for a unique, fresh, and exciting take on gameplay like that of Super Smash Brothers, then Brawlout is for you. Get out there, choose your character, and pummel your opponents into submission!
Status: Pre-Release
Release Date: Jul 17, 2017
Business Model: Retail
Developer: Angry Mob Games
Publisher: Angry Mob Games
Category: Stand-alone
Genre(s): 3D, MOBA, Fantasy
Platforms: PC, Steam, Xbox One, PS4




Recommended System Requirements:

OS: Windows 7 64 bit
CPU: Core 2 Duo E6550 2.33GHz or Athlon 64 X2 Dual Core 5600+
RAM: 4GB
GPU: GeForce 8800 GTS or Radeon HD 5670 1GB DDR3